If you're a Drunk Elephant stan you'll have heard of the iconic Baby Facial. True fans have had it shipped directly from the Americas as this at-home facial didn't arrive with the brand's UK launch in 2018, due to the high percentage of actives getting through accreditation. But now it's here, we couldn't wait to get our hands on this much-hyped mask, known for its results in smoothing skin texture and minimising the appearance of fine lines, wrinkles and pores, without causing redness or sensitisation.
The Beauty Hype: I was one of the first Beauty Directors in the UK to trial Drunk Elephant's Hair & Body range – here's what happened
The formulation contains 25% AHA / 2% BHA blend (an epic combo of glycolic, tartaric, citric, lactic and salicylic acids), pumpkin ferment, chickpea flour and a soothing antioxidant blend that combines milk thistle, apple and matcha tea. This elixir promises to deliver real brightening action that helps to unveil a more even, radiant and of course baby-soft complexion.
Here, five reviewers put it to the test and reveal what all the hype is really about!
The Product:
Drunk Elephant Baby Facial, £67, Space NK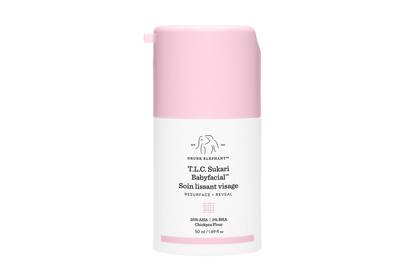 The Verdict:
Alice du Parcq, Contributing Beauty Director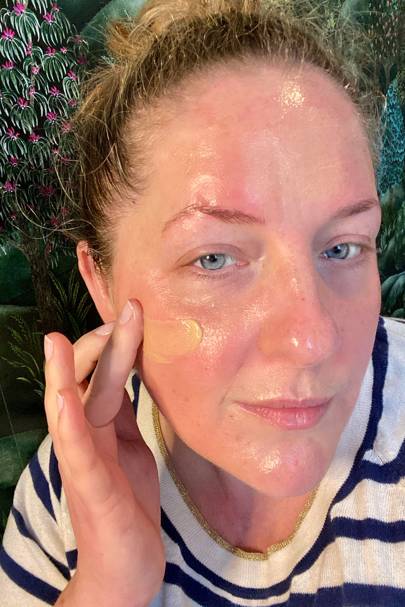 "BRING ON THE TINGLE!" are literally the words I shouted out loud just before taking this photo, like some kind of self-cheerleading skincare mantra. I want this to work. I want all the crud, grime and grey layer of lockdown sh*t that glowers at me in the mirror to be obliterated by this innocent-looking baby pink Power Ranger mask. I first heard of BabyFacial when the Drunk Elephant came to the UK, because they specifically didn't launch this particular product, much to every beauty director's rage.
Now it's here. And it's on my face. On first pump, I am met with a thick beige cream that looks like salted caramel buttercream, and I spread it all over my skin avoiding my under-eye area and lids. (I included my brows because I get dry flaky skin here). Here comes the tingle and I like it. I wonder how we've become a skincare nation of tingle-chasers, longing to feel something different, exciting, energising and 'active' on our stressed-out skin when really if you think about it that's kinda messed up. And by the time I've finished this mini life-reflection moment, the tingle has passed.
Throughout the 20min masking session, the product dries a little but not to a point where it's crackling like mud. It stays tacky and semi-wet, and creates this plastified, cellophane glow on the skin that I am loving tbh.
This is probably the strongest mask I've ever used and I feel a bit nervous, like I've joined a very exclusive member's club but I'm too embarrassed to ask the supercool staff where the loos are.
When I go to the sink to wash it off with warm water and a flannel, I'm expecting my clumsy, reactive English Rose skin to be horrifically red, blotchy and shamed – but it's not at all. It's surprisingly calm and unified with no inflammation whatsoever. Once removed, I touch my skin and the usual rough texture along my jawline has completely disappeared. I smother the accompanying vial of Virgin Marula oil all over and my skin feels and looks utterly delicious – smooth, soft, peachy, glassy and refreshed. This is a keeper. I am 100% Hooked.
Rating: 10/10
Lottie Winter, Beauty Editor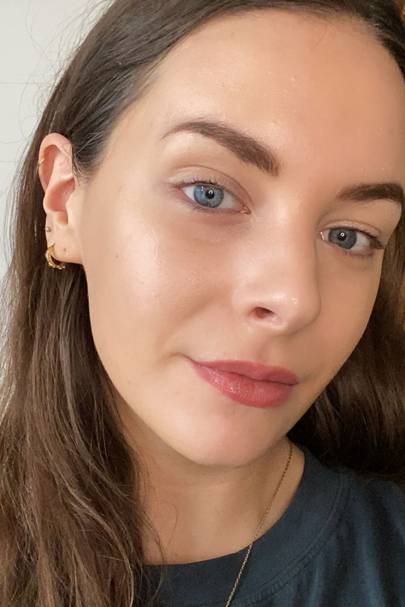 I'm a big believer in 'no pain, no gain', so when it comes to my skincare, I take a slight tingling sensation as a sign that the product is working. Obviously, there's a cut off point and I would never advocate a product that stings or causes irritation. Drunk Elephant Baby Facial hits the perfect balance of feeling like it's actually doing something while still remaining kind to skin.
Baby Facial arrives in the brand's signature clinical-but-cute packaging, with an airless pump applicator to keep the formula within fresh and to help dispense the right amount of product. The formula itself is a different texture that I was expecting – it's much thicker – and its yellow-beige colour coincidentally perfectly matches my skin tone.
After applying a thin layer, I could feel a distinctive tingling, especially where I had active breakouts, which is most likely due to the cocktail of exfoliating acids within the product, helping to break down dead skin cells and remove debris. However, I did accidentally get a little on my under-eye area and had to quickly wipe it away to stop it from stinging.
After 20 minutes, I rinsed off with water and a washcloth. My skin was squeaky clean and glowing like I have never seen before. It felt silky smooth to touch and my breakouts quickly cleared up over the next day or so. See – no pain, no gain!
Rating: 8.5/10
Lateef Saka, Skinfluencer
This creamy exfoliant packs a punch. As I applied two pumps of the product on my face I couldn't help but compare it to butter. Within the first 5 minutes I felt a slight tingle but nothing wildly overwhelming, such as stinging or burning sensations. After 15 minutes, I rinsed it off using lukewarm water. My skin looked significantly brighter but also felt extremely soft. I followed up with some hydrating serums and an oil to lock in the moisture.
The products blend various AHAs (glycolic, tartaric, lactic and citric acids) at 25% and a BHA (Salicylic acid) at 2%, which explains its effective exfoliant properties. The incorporation of other ingredients such as chickpea flour helped brighten my skin, while the aloe extract and sodium hyaluronate provided extensive hydration as promised. Overall, I was pretty pleased with the brightening and clarifying result so I'm likely to purchase it again and again.
Rating: 8.5/10
Elle Turner, Beauty Deputy Editor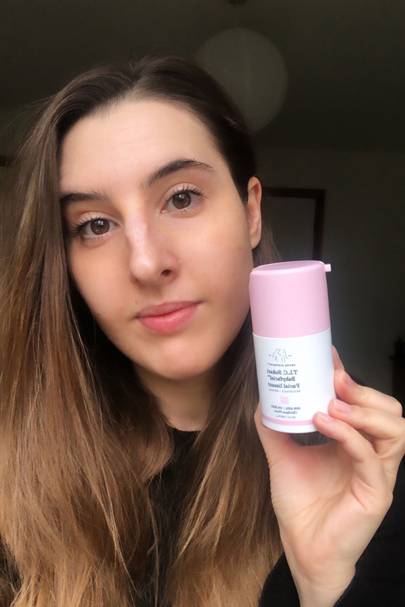 I should preface this by saying that I don't usually like all-guns-blazing skincare. When it comes to my face, I tend to find that slow, steady and incremental works best. Within seconds of applying this to clean, dry skin, it started to tingle, which grew in intensity. By the time I rinsed it off 20 minutes later, my face felt much warmer. It wasn't painful, but it was uncomfortable, especially as my skin is quite reactive and any flaring is usually a warning sign that my face intends to be sulky and irritable for the next few days (there's no reasoning with her).
By the time I'd applied my moisturiser, I looked like I'd sunburnt my face on the slopes. There were white goggle marks around my eyes, where I'd avoided applying the mask too close and my cheeks were peak lobster (the nearest I'll get to some winter sun any time soon).
In fairness, by the morning, everything had settled. My skin was even-toned, relatively chill and definitely brighter. The mask had buffed off the film of dull, dead skin that my cleanser couldn't shift. It meant my skin looked glowier, softer and (bonus) absorbs the rest of my skincare better. Did I enjoy using it? Hmmm, no. It's not gentle enough for my liking. Was it effective? I'd have to admit that it was. I'd be up for using it very occasionally to spring clean my complexion, but I'd be reluctant to use it regularly – I wouldn't have a face left.
Rating: 7/10
Yes, the rumours are true: Victoria Beckham has just launched a new mascara and here's what we thought
Shei Mamona, Beauty & Features Assistant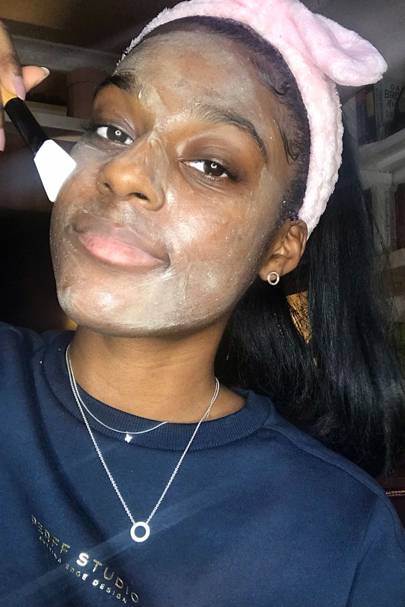 On first impression I was skeptical of this mask. Baby-facial? Those are big words and a lot to live up to, but I was not disappointed.
Let's start with the obvious: the packaging. The pump applicator eased the application (I did use a mask brush, I find them useful for accurate placement – you don't want this grade of potent stuff getting in the wrong places like eyes and mouth). On application, I'm enjoying the creamy consistency, it did have a slight grit/grain, but not too gloopy, not too thick. There was an immediate tingly sensation, which I secretly enjoyed, as it felt like it was doing something instantly.
I left it for the full 20 minutes and rinsed it off with lukewarm water and a wash cloth. Then followed it up with the Virgin Marula Luxury Facial Oil mini sample that came with the mask, to seal in that moisture.
I wanted to see results, and results I did see! Suddenly, there was no sign of late nights on Netflix, there was clarity and evenness in my skin's texture. The exfoliation was gentle enough to avoid irritation on my combo skin, but also potent enough to promote that radiance I long for every time I touch a skincare product with acids. All in all, it does what it says on the tin – baby soft. So next week, we go again!
Rating: 8/10