When it comes to foundations, M∙A∙C is pretty up there in its reputation for offering great, high-performance, premium formulas at affordable prices. The brand's No.1 bestselling foundation is the Studio Fix Fluid SPF15 Foundation – a well-known makeup artist favourite. It has legions of loyal fans all over the world too, calling it "the BEST foundation" for its strong, high-pigment coverage, 24-hour wear and matte finish, which seems to magically blur imperfections while still feeling lightweight and looking natural.
Importantly, M∙A∙C's Studio Fix Fluid SPF15 Foundation comes in an impressive 67-strong shade range, which makes it one of the most inclusive on the market. Fans of the foundation on M∙A∙C's website claim it "stayed on from 7am-7pm through a full work shift, while wearing a mask", covers everything from whiteheads to dark circles and leaves them looking "flawless", no matter their skin type or skin colour. This go-to foundation also claims to be non-comedogenic, which means it won't cause acne flare-ups or breakouts, something that is truly music to our ears.
While foundation shopping might not seem like the easiest thing in the world right now (thanks to a certain pandemic), M∙A∙C's Virtual Try-On tool, available on www.maccosmetics.co.uk, which anyone can do on their phone, makes finding the perfect shade of Studio Fix Fluid SPF15 Foundation a complete doddle.
So, we decided to give the M∙A∙C Virtual Try-On tool a whirl and see for ourselves whether this foundation really lives up to its cult status and hype.
Here, 5 GLAMOUR team members put M∙A∙C's Studio Fix Fluid SPF15 Foundation to the test…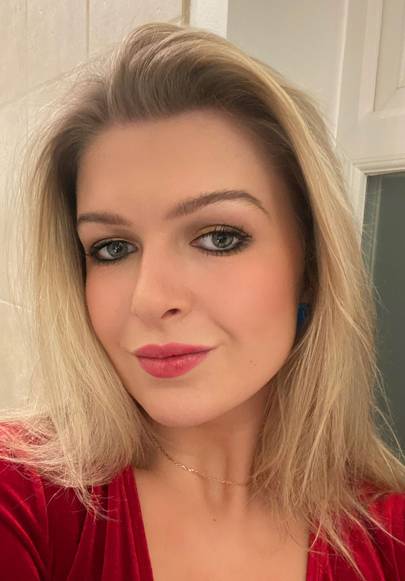 Serena Connelly, Executive Assistant to Editor-in-Chief & Publishing Director
Shade: NW10
The Virtual Try-On tool is seriously impressive. I have always been slightly dubious as to whether online tests for foundation matches are hugely accurate, but the minute I applied my recommended shade, it was as if I had gone into a store and chosen it in person. Simply scan your face through the M∙A∙C Virtual Try-On tool and you'll never look back.
The Studio Fix Fluid SPF15 Foundation has 67 shades and I was matched with NW10. I found it very smooth and easy to apply. It's not thick like a lot of foundations, but also has enough coverage so that I did notice a positive difference to my skin once applied. Another important factor for me is to know that once I've applied a foundation, it's going to last, and I was so surprised to see that this one really did last all day long without any reapplication needed.
For best results, use the Fix+ Magic Radiance mist first. It's packed with hyaluronic acid and vitamin C, so it will help get skin hydrated and well-moisturised before any foundation application. I simply and quickly sprayed this hassle-free mist and my skin literally glowed under the foundation. A great product pairing that I would highly recommend!
Verdict: Highly accurate shade matching using M∙A∙C's Virtual Try-On tool, while the Studio Fix Fluid SPF15 Foundation gave me the perfect amount of coverage and lasted all day.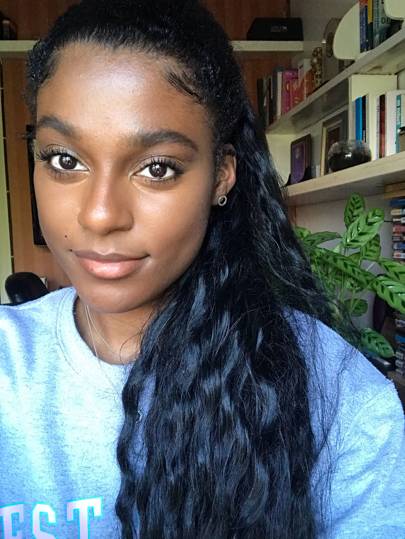 Shei Mamona, Beauty & Features Assistant
Shade: NW46
The idea of leaving my house and trying on samples to shade-match my foundation is inconceivable right now. Post-pandemic, the new age of beauty shopping calls for an accurate and effective Virtual Try-On tool, and M∙A∙C's matched me to the perfect foundation shade for my complexion – using only a selfie and a few clicks – from the comfort of my own sofa.
The Studio Fix Fluid SPF15 Foundation has a really wide range of shades and I managed to get one that compliments my dark skin and warm undertones to achieve a real-skin-like finish. The foundation is also buildable, so you can opt for a no-makeup-makeup look, full coverage or somewhere in between. It's blurring effect gives the illusion of a blemish-less complexion, erases almost all signs of unevenness due to pigmentation and gives you a glowy finish for the healthiest looking skin. I think I've just found my newest go-to, and I'm not sure I will ever look back.
Verdict: M∙A∙C's Virtual Try-On tool proved to be an effortless way to colour-match to my skin tone, while the Studio Fix Fluid SPF15 Foundation gave me a totally flawless complexion.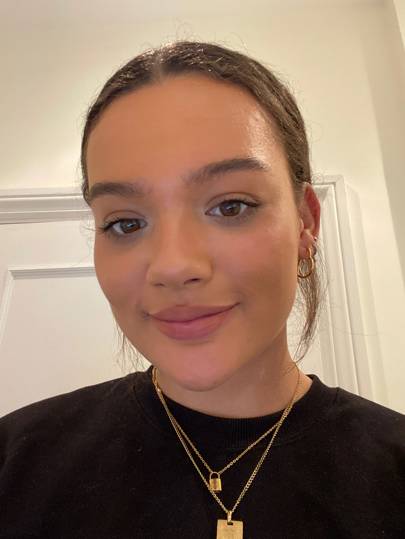 Luca Wetherby-Matthews, Social Media Assistant
Shade: NC42
My relationship with M∙A∙C Studio Fix Fluid SPF15 Foundation is an age-old tale. I first bought it when I was 15, and struggling to cover my teen breakouts and control my oily skin without looking cakey or breaking me out further. Studio Fix Fluid SPF15 Foundation ticked all of those boxes back then and has never failed me since. Having applied the foundation in the morning before work, I was impressed to see that even by the end of the day I was met by a matte reflection in my Zoom camera (*not* a common occurrence, trust me).
At first, I was a little apprehensive about using the Virtual Try-On tool to find my perfect shade match. Would it work properly in my lighting? Would it match a shade to my neck? Would it gauge my undertones? In short, yes it did. The tool suggested NC42 which matched my tone to a T, not too orange, not too pink and most importantly to me, not washed out.
Verdict: M∙A∙C's Studio Fix Fluid SPF15 Foundation delivered on offering long-lasting coverage that perfectly matched my skin tone.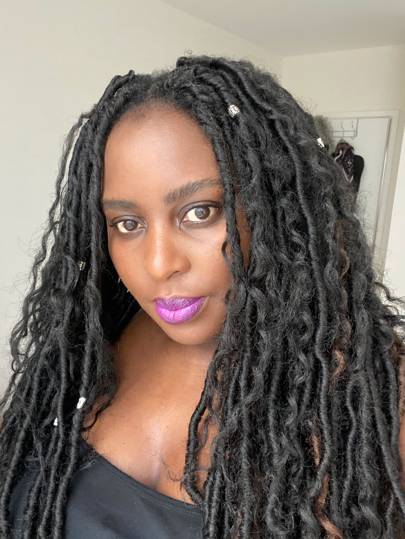 Bandi Manzini, Branded Content & Partnerships Director
Shade: N55/N50
When I was younger, M∙A∙C was pretty much the only makeup brand that catered for darker skin tones like mine. While other brands may have expanded their ranges, I love that M∙A∙C is still leading the way when it comes to the breadth of shades – there are now an impressive 67 available.
Using M∙A∙C's new shade-matching Virtual Try-On tool was easy enough, albeit I kept flitting between shades NC50 and NC55. By looking at photos of swatches I eventually settled on NC50, which is described as 'rich brown with golden undertone for deep dark skin'. I was a little skeptical as even though my skin is rich brown and deep dark, I think I have more of a red undertone than a golden one.
As was the case many years ago when I first used M∙A∙C, I found that some things haven't changed – a little still goes a long way and full coverage is achieved quite quickly. The consistency of the foundation is a little runny and I found putting a few drops on the back of my hand then dipping in the brush (M∙A∙C Foundation Brush 190) and applying a bit at a time helped me control quantities.
The finish is silky smooth and a lot better than I expected, to be honest. Shade wise, it's a good match and actually the golden undertone added an extra glow and warmth to my skin, which very few foundations seem able to achieve. I'm very pleasantly surprised and I think I might have fallen right back in love again.
Verdict: M∙A∙C Studio Fix Fluid SPF15 Foundation comes in a large selection of shades with a Virtual Try-On tool that actually works.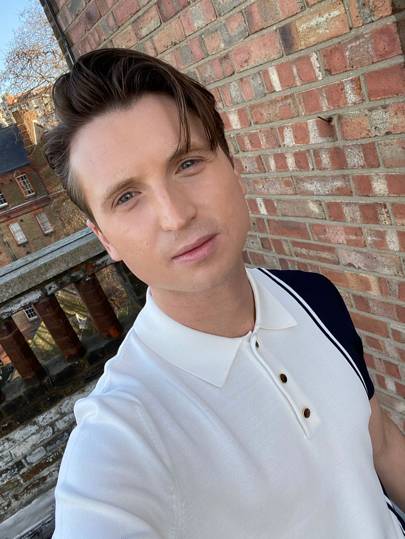 Josh Smith, Entertainment Director
Shade: NW20
I wasn't sure if the M∙A∙C's Virtual Try-On tool was going to nail my skin colour, but it did so perfectly with shade NW20! I always feel a bit conscious when wearing foundation that it will be very obvious that I am wearing it, but this glided on to the skin and felt very natural. As I do a lot of on camera work, this foundation has given me an extra boost of confidence especially as I have been dealing with maskne lately.
Verdict: This is definitely a my-skin-but-better foundation with a natural finish that gave me all the coverage I needed.