Leigh-Anne Pinnock, 29, Jade Thirlwall, 28, Jesy Nelson, 29, and Perrie Edwards, 27, became the biggest girl group in the world as a four-piece. Now, as Little Mix win GLAMOUR's Women of the Year award for being Gamechangers in Music – both on and off stage – and begin a new chapter as a trio, they open up to Josh Smith about how the past year has been their most gamechanging yet in a decade-long reign at the top of pop music…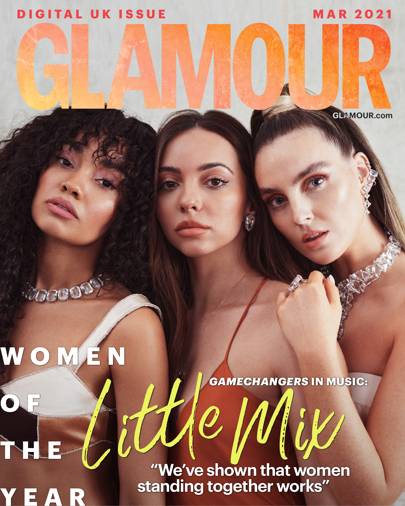 Having interviewed Little Mix seven times, both collectively and individually for their first solo interviews, there has been laughter, tears, the tightest of hugs and a lot of camp humour. We've discussed everything from how Perrie's crippling anxiety left her unable to leave the house, the vile online racism Leigh-Anne has faced, Jade's gamechanging allyship with the LGBTQA+ community and how Jesy's experiences with trolls left her attempting suicide. We have even discussed how Jade learned to clean the toilet for the first time in lockdown 1.0, showing that our conversations have had as much range as the girls' vocals.
Throughout all our conversations, 'sisterhood' has been at the heart – so of all the possible predictions of what their future held, one of them leaving the group early is the last thing I would have anticipated. And yet on 14 December, following the announcement in November that she would be taking an extended break from the band, Jesy decided to leave the group permanently, stating that despite it being "the most incredible time of my life… recently, being in the band has really taken a toll on my mental health." In return, the remaining girls said in a statement, "This is an incredibly sad time for all of us but we are fully supportive of Jesy. We love her very much and agree that it is so important that she does what is right for her mental health and well-being." Their fans – affectionately called the 'Mixers' by the band – were in mourning.
Jesy Nelson praises the 'love and support' of Little Mix fans after leaving the girlband to protect her mental health
Today, three months later, as I Zoom into their respective homes both in and just outside of London – all of them are dressed in their finest lockdown loungewear, ranging from Leigh-Anne's tie-dye jumper to Jade's Christopher Kane tee emblazoned with 'Sex' – the sisterhood is just as protective of their former bandmate, and her decision to leave, as they always have been. They keep our hour-long chat firmly on the future of the Little Mix and respectfully, and rightly, do not address Jesy's personal decision to leave the group. "It was nice going into the new year, as a three, with the No.1 single," Perrie says proudly, referencing Sweet Melody, which has also become their longest-charting single in the Top 10 to date. It's a moment Perrie is calling a "good omen" for their new chapter, which they all nod in agreement with.
I wonder how taking a forced break last year due to the Covid-19 outbreak – after spending so long intensively together – and the resulting change in the line-up has made them reflect on their time, and position, in the group? "This time has given everyone perspective of what you truly love doing in life and figuring that out," Jade answers in her Geordie twang, bursting with excitement because she is "so excited to talk to new humans" from outside her unit.
"I'm not saying that we're codependent, but we do heavily rely on each other, so it's been healthy to take a step back and think, 'What do I want?' As we come together and work together this year, we'll have an even better and healthier relationship with that perspective. It's beautiful that we're still a group, but we want to help push each other to do our own thing, too. It's like a new dawn of Little Mix."
"It's definitely important. It's going to take time. It's not something that happens overnight after being together 24/7," Leigh-Anne replies before Jade continues. "I'm not saying that we're codependent, but we do heavily rely on each other, so it's been healthy to take a step back and think, 'What do I want?' As we come together and work together this year, we'll have an even better and healthier relationship with that perspective. This time's taught me that I am still figuring out who I am, too. I don't really know who I am. I used to get scared at that thought, but now I've stopped punishing myself for not knowing. It's beautiful that we're still a group, but we want to help push each other to do our own thing, too. It's like a new dawn of Little Mix," she smiles.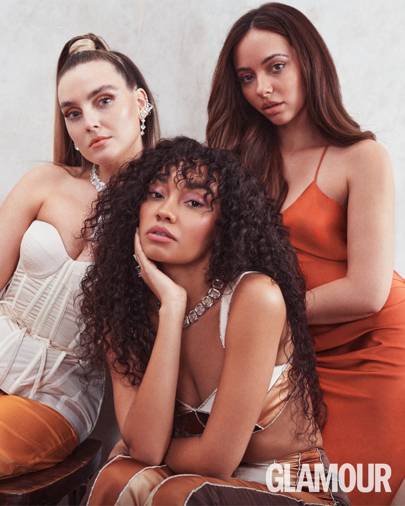 "That's totally OK," Perrie reassures Jade – something they do in turn for each other throughout our interview. "We're not going to know, individually. We've always had each other, it's always Little Mix – it's us." "Do you know what?" Jade has a lightbulb realisation. "I've learned that when I am living with Jordan (Stephens, her boyfriend and Rizzle Kicks star) or Holly (her flatmate), if they ask us things or ask us to decide something, I automatically go, 'What do you think?' And I'm like, 'Oh, they're not there,'" Jade adds in her Geordie tones, miming looking around for her bandmates. "I've forgotten that I can make decisions on my own. It's a really weird feeling."
With everything they have achieved in the ten years since they became the first group to win The X Factor in 2011, it's a miracle they have had time to even think, let alone make a decision. Since the night of the final – when I went OUT out with the words 'LITTLE MIX 2 WIN' written in permanent marker on my forearm as a homage to their mentor Tulisa's The Female Boss tattoo – they have officially become the world's biggest girl band.
With their signature bop-pops ranging from first single Wings to Black Magic and Shout Out To My Ex, Leigh-Anne rightly states, "We've made music to boost people up, make people happy and to inspire them." And it has combined to create six studio albums, 27 singles – two of which have reached the coveted multi-platinum status – sales of more than 50 million albums and singles worldwide, 100 award nominations, 48 award wins including two Brit Awards, six MTV Europe Music Awards and now four GLAMOUR Women of the Year awards. Oh, and they have launched five worldwide tours with their latest, The Confetti Tour, rescheduled for next year. They have a collective estimated £24million fortune – in 2019 they had made £11.2 million in touring alone.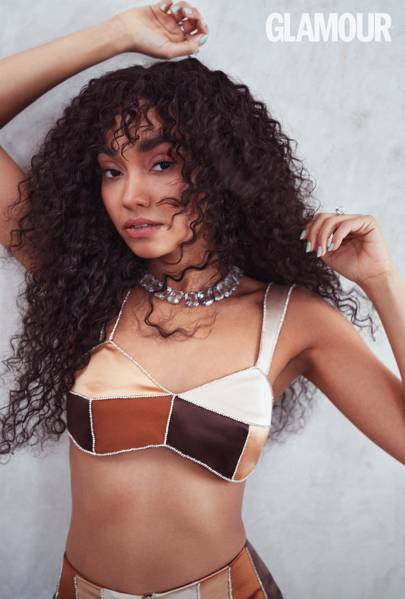 These tours have not only ranked among the highest-grossing tours of all time for a girl group, they have also become a forum to discuss gamechanging topics. At their last appearance at London's O2 Arena in 2019, they flew onto the stage with a rallying call for feminism, dedicated their ballad Secret Love Song to the trans community and even played a montage of Piers Morgan, showing how he has continuously ripped into them for 'nudity' and what they wear.
"We've shown that women standing together works, even with all the obstacles in our way. Right from the beginning, we were the dark horse on The X Factor, and no one expected us to do well," Jade shares. "After that, everyone would say, 'They'll do one single and maybe one album and will get dropped.' We persevered and got through it. We grew and became adult women together. It's impactful, to show others that you can have longevity, you can break barriers, win awards and break records on the back of sticking together and being a force of women. If I had a little girl, seeing that unfold before her, from being ten years to 20 years old, what a great thing to have in the pop industry as a message to young women."
Being refreshingly honest about their bond, Leigh-Anne continues, "I do think our sense of sisterhood is better for when we do have sh*t times together over the years or if we've got on each other's nerves, because it's never been an option to not be together and we've always known that we are sisters. It helps you to learn forgiveness, learn to be more patient and be more compromising because you're in a group dynamic where it's literally that or you don't be together."
With all these accolades, I am curious to know what has been their proudest personal achievement to date? "One thing we've had to do in our careers, which is hard, is to put on a brave face," Perrie replies. "We're all going through the worst situations of our lives. We just want to crawl in bed, put the duvet over our heads and just never come out. But you know you've got people depending on you, you've got three other girls that need you there, you've got fans all over the world; you don't want to get a bad reputation."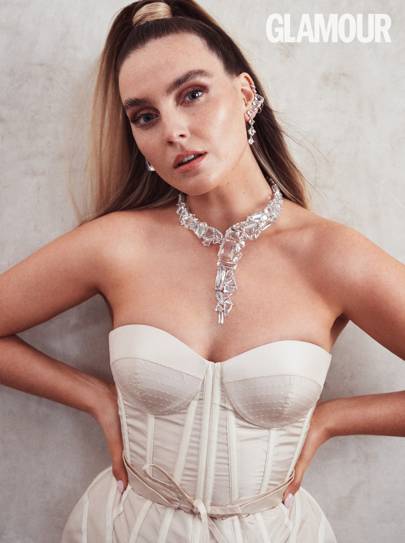 Leigh-Anne's moment of pride also involves rising to the challenge of having a platform – collectively they have 63 million followers across social media – and using it for good. "I'm proud that I've spoken up more about my experience of racism [something which will be the topic of her own BBC3 documentary later this year]. I would have been too scared to do so in the past. Now I have the courage. I feel like I've found myself."
"We've always had a voice as a four, we've been a force and we've always been very, 'we stick together on things'. But there have been times, like with [music] labels, [where they've] backed us into a corner and it is obviously mainly men; they see us as four women and don't take us seriously. We've had that for our whole career. Even until recently. I'm asking, 'Has much really changed?'"
Finding their feet in a music industry that has deep roots of misogyny – as Perrie says, "The first thing women in the industry get asked about is boyfriends," – is definitely not to be underestimated and learning to navigate that has taken each of them time. The control of women in the music industry is a hot topic when we speak, due to The New York Times documentary, Framing Britney Spears, which they have all watched and as Leigh-Anne says, "God, it made me angry." "We spent far too long being patronised, especially by men in the industry," Jade interjects. Lee-Anne continues: "We've always had a voice as a four, we've been a force and we've always been very, 'we stick together on things'. But there have been times, like with [music] labels, [where they've] backed us into a corner and it is obviously mainly men; they see us as four women and don't take us seriously. We've had that for our whole career. Even until recently. I'm asking, 'Has much really changed?'"
What has changed is their confidence in speaking out for what they believe in. For example, labelling themselves as feminists was something strictly off the agenda during interview conversations for a long time. "A few years ago, we were on a red carpet and an interviewer just threw the mic in our face and asked, 'We saw that you girls say you're feminists, is that true?' It was a very negative way to say that," Perrie says. "Back in the day everybody frowned upon it: it was very taboo and nobody could talk about it and that's why we always tried to avoid it. As girls in the industry, it's hard enough as it is without saying something, slip up, and then it gets totally blown out of context. We were always just so terrified of that happening, we hated it. That's why we would just scoot around things."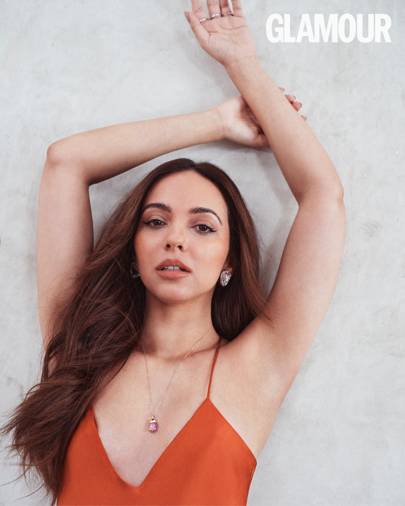 "Someone really wise said to me, 'When the history books are written, what's going to be said next to your name?' That is such an important quote because you know what we are using our voice for – it's inspiring people," Leigh-Anne voices.
"Learning to say 'no' has been quite a big thing for us," Jade adds. "For a long time, we were always scared of pissing people off – and you do get backed into a corner and it's like, 'Well, if you don't do this, you can't have this.'" Perrie jumps in with one telling word: "Blackmail." Jade agrees, "It's weird that it still happens, but then all of a sudden when that power is taken away from whoever's abusing it, you realise, if I just say 'no' more often and we stand together with that decision, it works!"
It's 5 stars across the board for Little Mix's new album as they ask: "Why do we get scrutinised all the time, for literally dressing our age?"
Leigh-Anne concurs, "The realisation, as well, was we are a part of a well-oiled machine. We are pawns in this. People don't really care about us. When you realise that we have each other, we can look after each other and we know that some people don't have our best interests at heart – but we are a unit together – we can stand together and stand up for ourselves."
Making the decision as a group to leave their label, Syco, in 2018 – forcing Simon Cowell to relinquish the control he had over them – is testament to that. And like their recent hit, Not A Pop Song's lyrics say, 'I don't do what Simon says/ Get the message 'cause it's read/ That's just life it never plays fair/ Said to follow any dream/ Be a puppet on a string/ Works for you but that isn't me' – they were done with being pop's playthings. "We're a brand, but I think the difference is that we know we're a brand and we take advantage of that for our own benefit. We use it for us, not for other people," Perrie states in unison with her bandmates.
The move was a difficult one and caused one of the band's rare moments of what reductively could be labelled a 'failure', but even in those moments – Jade mentions "cracking America" as another – their commitment to looking at everything as an opportunity for empowerment shone through. "Leaving our label was a massive step for us," Leigh-Anne tells me. "But because LM5 (their fifth album featuring bangers such as Woman Like Me) was around that time, it didn't get the recognition it deserved. With everything that happened, it was tarnished a bit and we always look back on that – especially me and Jade (who co-wrote many of the songs) – and think it's so annoying because we worked so fricking hard on it! But you have to think, 'You know what, we all stood our ground, and we made that movement for a reason!'"
As our time together comes to an end, I ask them if they have stepped into their power on behalf of those wide-eyed girls full of dreams, who auditioned for The X Factor all those years ago. "I still get really bad stage nerves," Jade discloses. "One of the things I started doing – when I felt like I wasn't good enough or was about to sh*t myself – is that I pretend there's little Jade sitting there as my biggest fan saying, 'Oh my God, this is what you've achieved!' I have to remember how far I've come in the few times that I've suffered from imposter syndrome where I'm like, 'How have I managed to convince everyone that I'm in the biggest girl band in the world and I'm really talented, when really that's not what I am.' Little Jade just sits there and says, 'Jade, hun, you absolutely smashed it, I'm so proud of you.' Then I feel really good about myself again."
Leigh-Anne agrees, "I don't feel like I recognise myself, that girl back then. The growth of confidence, it's just something I've never even seen." It's clear being in Little Mix has been a gamechanging experience for them, as people, which Perrie conveys perfectly.
"I was such a scared cling-on-to-my-mum's-leg kind of girl, even when I was 15, 16. If I was in McDonald's and I needed ketchup, I wouldn't go up and ask. I'd be too shy. Or, if I went to a buffet, I wouldn't go up with my plate and get food unless my dad came with me, because if anyone even looked at me, I'd sh*t myself. Even if my mum or dad asked me to sing, I'd be like, 'OK, but you have to put a tea towel on your head.' Now, the second we're on the stage and you hear the roar of the crowd, you just think, 'Oh my god, this is the sh*t!' But soon as we come off stage, we're just these idiotic little girls."
And that is why we love Little Mix – long may they reign over us.
Join us on Thursday 11 March at 7pm as Little Mix accept their GLAMOUR Women of the Year 2021 award with an exclusive new video interview.