Boris Johnson has become the number one most donated to MP this parliament after receiving a single donation of one million pounds.
Labour leader Sir Keir Starmer had previously been the most donated to MP with £740,000 in multiple donations, Sky News' Westminster Accounts tool showed.
But the money from Brexiteer and crypto investor Christopher Harborne beat that in a single donation, and suggests the former prime minister has no intention of stepping down from politics any time soon.
Mr Harborne is a former Tory donor who in 2019 was the bankroller of Nigel Farage's Brexit Party.
Money from political donations is used to fund things like campaigning, staff, and office costs.
Mr Johnson's 7,210 majority in his west London constituency means he is vulnerable to being unseated by Labour, and allies have claimed he could strike a deal with Prime Minister Rishi Sunak not to challenge his leadership in exchange for a safe seat at the next election.
The register of members' financial interests is where all MPs must declare any donations, wages or gifts.
Mr Johnson also earned £303,880 in speeches in December, according to updates to the register published on Thursday night.
He earned over a quarter of a million – £253,880,90 – from software company ParallelChain Lab for a nine-hour event in Singapore, and £50,000 from property development company the Ballymore Group for a seven-hour speaking engagement in London.
This comes on top of the £1m Mr Johnson has already declared in outside earnings for a handful of speeches since officially stepping down as prime minister in September.
Since then, the former PM has also lived rent free in the home of JCB chairman and Conservative donor Lord Bamford, the register of interest shows.
Search for your MP using the Westminster Accounts tool
The updates follow the launch this week of Westminster Accounts, a joint project between Sky News and Tortoise Media which aims to shine a light on money in politics.
SNP calls for donations reforms

The new database brings together MPs' second jobs and donations – the first time they have all been collated in one place.
According to our latest analysis of the donations, Boris Johnson now tops the leader board of the most donated to MP, followed by Sir Keir Starmer and Mr Johnson's short-lived successor Liz Truss.
Prime Minister Rishi Sunak comes fourth, followed by Labour MP Rebecca Long-Bailey, Shadow Chancellor Rachel Reeves and Housing Secretary Michael Gove.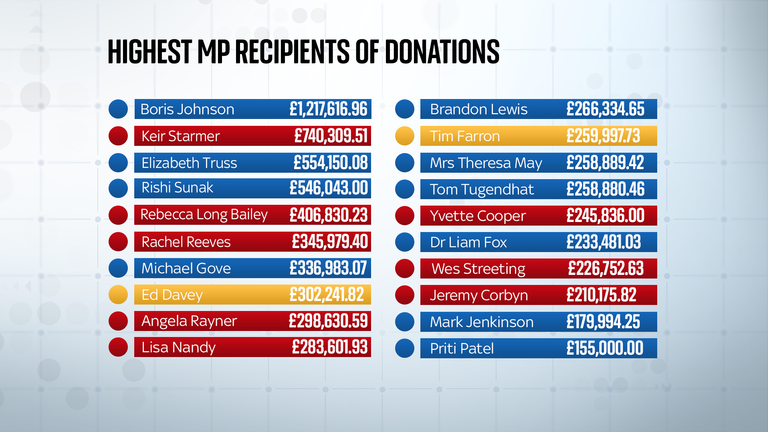 Outside earnings
The database has led to calls for greater transparency of where MPs get their political donations from, after our initial investigation struggled to uncover basic details about who is behind major donations.
It has also thrust the issue of MPs second jobs back into the spotlight.
There have been calls for the rules to be tightened on outside earnings since the Owen Patterson lobbying scandal, which saw Tory MPs attempt to save a colleague who broke lobbing rules from punishment.
All MPs are paid a base salary of £84,144, while prime ministers get an additional £79,936 for a total of £164,080.
However, MPs are allowed to earn extra money through second jobs.
While the vast majority of top earners are Tory MPs, David Lammy, the shadow foreign secretary, has also made over £200,000 from outside earnings this parliament.
The updated register reveals income from speeches since November 16 of £32,300 and nearly £5,000 for six radio shows on LBC.
Sir Keir Starmer – who has backed a ban on second jobs with some exceptions – has defended Mr Lammy, suggesting media work is "part of the political process".
Keir Starmer defends David Lammy

Some changes into what second jobs MPs can have are due to come into effect later this year, with MPs to be banned from taking on work as political or parliamentary consultants from March.
One source involved in drafting the new rules suggested this could impact the second jobs of around 30 MPs.
But they will not prevent others from earning significant amounts for speeches, TV appearances and legal work.
Read more:
Boris Johnson's large extra earnings criticised at PMQs
Westminster Accounts: 14 MPs given over £250,000 each in campaign donations since the last election
Rishi Sunak says 'transparency really important' as focus turns to MPs' second jobs
Mr Johnson's predecessor Theresa May, who stepped down in 2019, has a lengthy list of speaking engagements, including £408,200 for six talks in California, as well as flights and accommodation for her and a member of staff.
A speech she gave to the World Travel and Tourism Council in November 2022 earnt her £107,600.
Her entry in the register of members' interests makes no mention of the fact this £107,600 speech was delivered in Saudi Arabia – a country she blocked ministers and officials from visiting for a period while she was prime minister following the murder of journalist Jamal Khashoggi.
Mrs May has said the money she earns goes into a company called the Office of Theresa May Limited, from which she pays herself £85,000 a year and the rest goes to support her charitable work and her staff.