Sometimes you're lucky in life. Why? Because you find an author with an extensive backlist filled with books that call to you. From the very first time I started reading Lucy Score's books, it was very clear to me that she was going to become an author who never lets me down. In her backlist, you can find romance books from office romance to romantic suspense. I'm sure that she has already written your favorite trope, so I feel like Lucy Score is an author whose work can fit everyone. In this reading pathways, I want to list three novels from her collection that I believe are the best books you can start with if you've never read any of her books before.
Who is Lucy Score?
Lucy Score is a New York Times bestselling romance author with over 20 books under her belt, from standalone novels to interconnected series. "Growing up, writing had always been a hobby for me. I've loved books since before I was in kindergarten," says Score when asked about her writing journey. Since very young, she has loved reading and writing, so it's not a surprise that she has blessed us with so many lovely happily ever afters.
She started as an indie author who self-published all of her work with lots of success. It was not until last year when her first traditionally published romance came out, Maggie Moves On. From that point forward, Score has signed with Bloom Books, an imprint of Sourcebooks, as well, where you can expect to find some of her most famous work like Forever Never, By a Thread, and her Knockemout series.
The charm of Lucy Score
Small-town romances are the bread and butter of Lucy Score. If you go into her repertoire of books, most of them are set in a small town. There's something very charming about small towns that authors and readers gravitate towards. One aspect that you definitely find in Lucy Score's novels is the community surrounding the main character. If the character doesn't initially have a group of people around them, they eventually find one throughout the novel. Found family is special in these books, and Score never lets you forget that even if they don't share your blood, you can still find a family of your own.
But small towns are not the only charming thing you will find in Lucy Score's books, because her characters are three-dimensional and layered in a way that you can't help but relate to. These characters are finding their own path in this world, so it's most likely that when you start one of her books, the main character isn't sure of themselves or of the decisions they've made up to that point. Lucy Score takes you, alongside her characters, on a journey of self-discovery and growth where you will maybe even find yourself. Her characters feel like close friends, and opening one of her books is like coming home.
Where to Get Started Reading Lucy Score Books
Not going to lie, I read this book because I saw everyone, and I mean EVERYONE, reading it. Social media, especially TikTok, put this book out there, and with over 61.8 million views in the #ThingsWeNeverGotOver hashtag on TikTok, this book continues to reach all parts of the world.
After a fantastic success, it was not a surprise that it was later picked up by Bloom Books. This partnership led the book into the New York Times bestseller list for the very first time. Now, the sequel, Things We Hide from the Light, has recently been released, with a third book in the way, Things We Left Behind, coming out in September.
So, if you want to start reading Lucy Score, Things We Never Got Over is the perfect book to do it with. It's a small-town romance about a runaway bride who is searching for her twin sister but instead finds herself with a teenage niece and a grumpy next-door neighbor.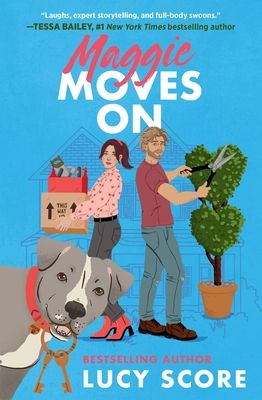 Grumpy heroes are very popular in the romance reading community. Who doesn't want a stoic man who only smiles at you? But what about a Golden Retriever-type hero?
Maggie Moves On tells the story of Maggie, a house-flipping Youtube star, who just arrived in Idaho for a new project. There, she meets sunny, charming landscaper Silas Wright, who is excited to help her out.
Silas Wright is different from any of Lucy Score's romantic heroes. He's just as flirty as the other ones, but he also radiates such a comforting presence with his smiles and banter. As soon as he meets Maggie, he announces that Maggie is the woman who he will marry one day.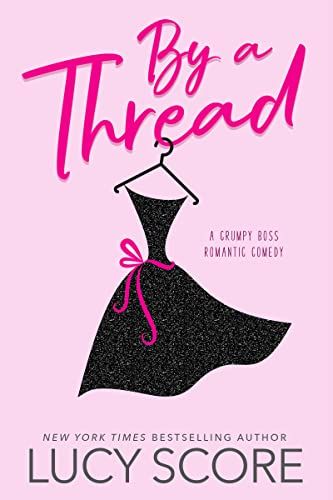 By a Thread is a workplace romance perfect for fans of The Devil Wears Prada. Dominic Russo is no Miranda Priestly, but he's grumpy and gets easily annoyed just like her. His life turns upside down when he meets Ally Morales.
Their relationship doesn't start on the right foot, because on their first meeting, Dominic is the reason Ally is fired from her waitressing job! It's obvious she doesn't have the best impression of him. Still, when his mother offers her a job at her magazine, she accepts. Expect late nights, sexual tension for days, a nemesis who become something more, and the fantastic Lucy Score humor we all love.
---
If you want to know more about certain authors and their top books, we have an extensive collection of reading pathways in Book Riot. Want to know more about Jesse Q. Sutanto? Or how about Alisha Rai? They're just one click away!