Alicia Keys may have famously ditched wearing makeup back in 2016, declaring "I realised I became addicted to it; I didn't feel comfortable without it." Yet for her GLAMOUR A/W20 cover shoot, she was ready and willing to step back into the makeup chair. And boy are we glad she did, serving up three epic and different beauty looks for the three different magazine covers.
With beauty boss next on the singer-songwriter's agenda, and the launch of Keys Soulcare – her skincare and wellness range – set to explode in 2021, it's no surprise Alicia is revisiting the power of beauty to make us look and feel great.
The inspiration behind Alicia's cover shoot was to create three looks to represent different facets of her personality, embracing her inner tomboy, her softer side and her fierce, self-empowered strength. Alicia worked with her trusted team of artists, MUA Tasha Reiko Brown and hairstylist Nai'vasha, A.K.A the curl queen, to bring the looks to life.
Posting the pics on her Instagram, Alicia captioned them 'The many moods of Alicia' and asked her followers "Which side best represents you today?" If, like us, you're struggling to decide on your favourite look, why not try out all three as and when the mood takes you.
Here's the lowdown on how to recreate Alicia's Pretty Chic, Tomboy Realness and Fierce Feels…
Shop The Look: Actress Emma Corrin of The Crown fame brings an anarchic attitude to the season's most majestic beauty looks
Shop The Look: Pretty Chic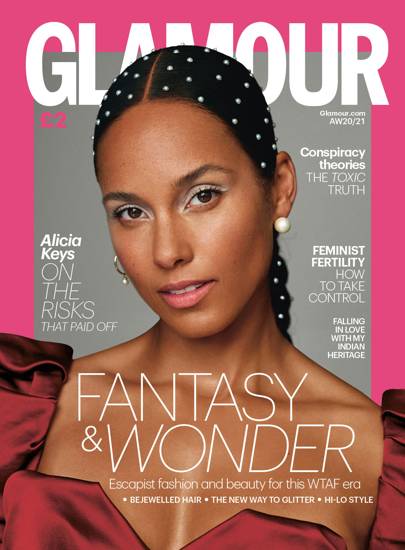 We literally can't get enough of this beautiful, elegant and festive look with deep red satin, frosted eyes, glowy skin and pearl adorned hair. If we were going anywhere of note this holiday season, it would be our go-to look from cocktails to Christmas day. MUA Reiko-Brown revealed she used her Chanel beauty kit to perfect Alicia's skin and create the soft-focus, halo glow.
Create a healthy, glowy skin finish with Les Beiges Healthy Glow Hydration and Longwear Foundation, £41, Chanel. For a subtle shimmery wash across eyes blend Small Eyeshadow in Frosted White, £15, MAC across lids and finish with a sweep of eye defining mascara such as Bambi False Lash Mascara Black, £10.99, L'Oréal Paris. Less is more for this look, so add just a subtle blush on cheeks with Cheek Heat Sheer Blusher, £8.99, Maybelline and go natural on lips to finish with Rouge Coco Flash 54 in Boy, £31, Chanel.
For seriously wow factor hair – prep hair with Supershine Moisturizing Cream, £54.50, Oribe, twist hair into a rope plait, then get crafty and decorate with stick-on half pearls.
'I struggled so much in my skin & being clear about my self-worth': Alicia Keys opens up about Black Lives Matter, overcoming acne & launching her beauty brand
Shop The Look: Tomboy Realness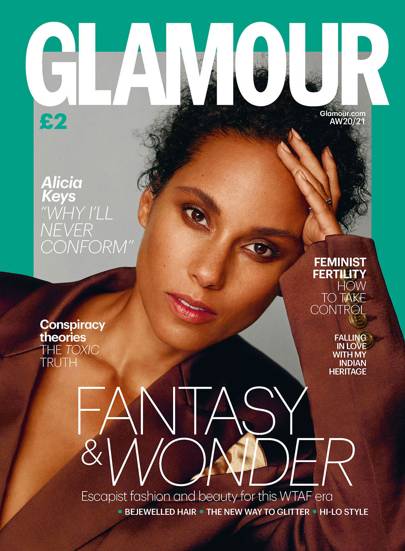 Alicia thanks her mum as her tomboy influence. "I think I got my tomboy nature from her, because she's not very frilly, and I got a lot of that sensibility from her." Also revealing her experience of growing up in NYC. "A lot of my fashion and beauty sense comes from being so exposed to the streets at a young age. I always had to be conscious about my toughness, about my boundaries and my clothes, so I was always very pared down in what I wore." She admits she's still happy to play it down. "I mean, you could put me in a jumpsuit every day and I'd be happy."
For this pared down beauty look, Reiko-Brown opted for minimal makeup in a neutral brown palette. Add eye definition with a soft cream shadow stick such as No Budge Shadow Stick, £5, e.l.f blended over lids into the crease, and traced under the lower lash line. Add definition with Alicia's go-to mascara Le Volume de Chanel Mascara, £28 , Chanel and brush up brows with Boy Brow, £14, Glossier. For a subtle, glistening skin contour blend Baume Essentiel Golden Light, £33, Chanel on cheekbones and swipe on a nude toned lip shade such as Rouge Coco Flash 116 in Easy, £32, Chanel to finish.
When it comes to hair, let your natural texture take the glory. Hairstylist Nai'vasha encouraged and defined Alicia's curls using Oribe. Try Curl Gloss Hydration and Hold, £41.50, Oribe, a lightweight gel. Apply to damp hair before air or diffuser drying to give your curls hold and shine.
Shop The Look: Fierce Feels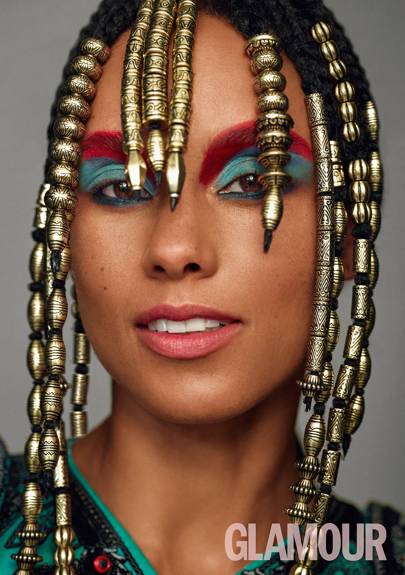 Alicia's beauty choice to convey her power and strength? Braids and full colour! "I've always been proud of wearing braids and I love learning about the power of hair. I've always felt royal when I wear braids. There's something so beautiful about the Blackness of it, about my African ancestry that I just feel truly connected to," revealed Alicia in her GLAMOUR cover interview.
Hair stylist Nai'vasha customised a braided wig for Alicia using metallic beads. Recreate the look with clip in gold cuffs or metallic beads, from £5.99 at Amazon.
To stand alongside the braids, a statement make look was required. Draw on multiple shades of blue on eyelids with Stylo Yeux Waterproof in Fervent Blue and Intense Teal, £22, Chanel and top up colour if required with the Ultimate Edit Petite Eye Shadow Brights Palette, £7, NYX Professional. Warm skin with a golden powder such as Hoola Matte Bronzing Powder Mini, £14.50, Benefit to balance the look. Lips are the only understated element here, coated with a slick of translucent colour such as Rouge Coco Flash 116 in Easy, £32, Chanel.
Photographs: Thomas Whiteside at Eiger Agency.
Makeup: Tasha Reiko Brown at The Wall Group using Chanel.
Hair: Nai'vasha at The Wall Group using Oribe.
Styling: Jason Bolden.
Nails: Yasmeen Sandoval.
Beauty Director: Camilla Kay.
Creative Director: Dennis Lye.
Bookings And Creative Production: Amelia Trevette.
Local Production: Margot Fodor. Digital Operator: Mike B. Lighting Assistants: Adam Bartlett and Dylan Corbett.
Styling Assistant: John Mumblo.
Seamstress: Satenik Kae.
Runner: Ernie Torres.
Health And Safety Officer: Teresa Beardsley.
Then there's only one thing left to do. Go channel your inner goddess! Scroll down to shop the products used in our Alicia Keys shoot.