"Nothing says sex more than a montage," Jonathan Bailey the new leading man on the costume drama scene jokes. We are approx. five minutes into our interview, and we have already covered the delights of mince pies, stilton and Nando's but our attention has turned to the racy romance in Netflix's new TV show, Bridgerton and its sex scenes.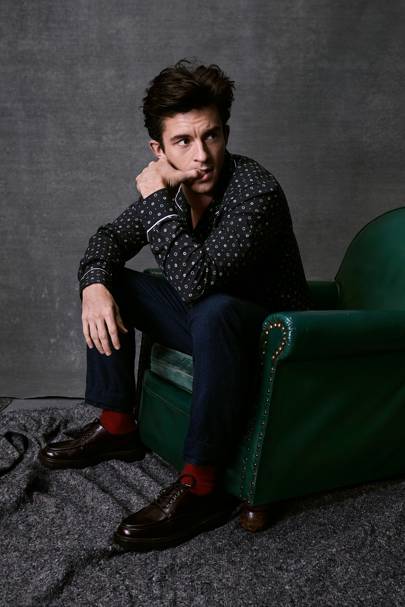 Bridgerton, Shonda Rhimes' (the producer behind Scandal and Grey's Anatomy) first foray into costume drama, is set in London during the Regency era and follows the trials and tribulations of the marriage market. Johnathan plays the troubled Anthony who after the death of his father is forced to assume the role of head of the Bridgerton family that contains eight close knit siblings of which Daphne – played by GLAMOUR UK cover star, Phoebe Dynevor – becomes the most celebrated catch on the scene. The resulting 'romance' will have your grandmother clutching her pearls, let's just say that.
It's certainly a career making role for Jonathan, who previously appeared in Broadchurch and Doctor Who, as well as sweeping a Laurence Olivier Award win for Best Actor in a Supporting Role in a Musical for his portrayal of Jamie in the 2018 West End revival of Company.
As Jonathan prepares to hit the big time – by appearing bottom first on Netflix – he talks how life is just like a boogie board – you just have to ride those waves – when it comes to dealing with your mental health and self-esteem… sounds poetic, no?
What do you think is so game changing about the way Bridgerton approaches sex and relationships?
I think romance as a genre exists on a beach holiday with a glass of rosé and it hasn't been given the respect that I think Shondaland and Netflix are now giving it on this wider platform. Inherently romance is about identity and about basic human interaction and sex is a massive part of that. With Bridgerton, you're following eight siblings, all with different wants and they'll meet people along the way, and they'll interact differently. It shows how you can exercise respect, have sex in different ways and how sex changes through relationships as they change. With the romance in this – with the amazing Sabrina Bartlett (who plays Anthony's love interest)- one of the things that we talked about a lot was how power through sex can change. With Phoebe's character, I think the most extraordinary thing is about conversation and about how important it is for parents to talk to their children about sex so that they don't go into these situations which can be incredibly vulnerable.
I think it is a game changer. It's so important to see everything through every gaze and the female gaze in terms of sex is not something we have seen much of. Let's reassert that balance! Ultimately, we're telling it at a time where it's incredibly safe to do so because of the post #metoo era as there's intimacy coordination and because there's now a safety and there's an understanding you can tell a story through sex. Whereas before, I think it was just a white-knuckle ride, you had to just get through it, and it would be the day on the schedule that you'd be slightly terrified of.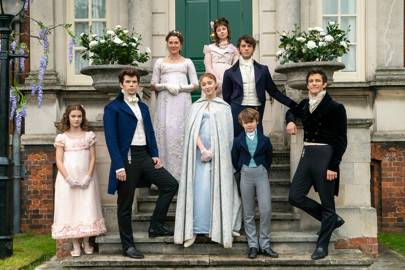 It's actually so shocking that we still talk about sex in 2020 and get really bashful about it…
No, I know! I was speaking to a friend the other day about sex in TV and film and we worked out it's more awkward to watch it on your own. Somehow it makes it better when you're watching it with a friend or you're in a group or you're in the cinema, because then at least it's a collective experience. I think there's an inherent curiosity about sexuality because it's linked to tribalism and knowing where you stand with people and how you interact. That's why it's always exciting. I think with period dramas – which is genre that I love – we always know that there'll be an unbuttoning of the corset and maybe a kiss at the end with a firework. But what better way to flip that genre like Shonda Rhimes has done. I think with Anthony you see his bottom first and then it pans up. There's no better way to say, 'we see the genre and we raise you!' Bottoms up!
If you're a fan of Gossip Girl and Downton Abbey, you'll love Netflix's major new show, Bridgerton (and the official trailer has just dropped!)
For the role you worked out with a personal trainerdidn't you…
Yeah, I did. I just finished Company in the West End and then I just went on a really delicious traveling escapade, which involved just enjoying all the delicacies that I could find. When you're getting your kit off, you just want to feel confident. I also think getting into the discipline of exercise really helps when you have a long grueling schedule so exercising and getting ready for a role is more of a mental thing as well as a literal physical thing.
Having to get your body out there on screen is quite a conscious process. How does that affect your own relationship with your own body image, would you say?
Once upon a time there would always be a caveat with an audition saying there'll be nudity and you have to be okay with that. That would always sort of send a tremor up your spine, but I think actually everything I've done involves me getting my bum out, weirdly! It's something that I've become used to, but you've just got to be really careful that you're doing it for the right reasons. Of course, it does bleed into your everyday life and when you're trying to sustain something for nine months, you go through different barriers in terms of what is healthy and what isn't.
There's an element of control that comes with acting which you've just got to be really mindful of. When you start trying to control how you want to be seen or how you see yourself or how you feel on a certain day, you can get into habits. If you're self-aware enough, you can identify them as they're coming in and then continue. I can see how you can get into unhealthy thought patterns when it comes to body image, but that's why it has to be a constant conversation.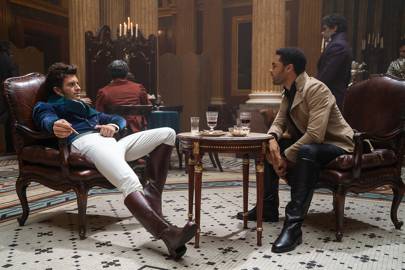 You play a new kind of costume drama leading man as he is an anti-hero is many ways isn't he?
There's a real obsession around the 'Darcy' figures in literary history. Here you meet someone who is so vulnerable, susceptible to other people's opinions and society's opinions change his value system. The idea of masculinity is very important in Bridgerton, I really thought, 'God, if you were a therapist, and you could time travel, you'd want to go to the Bridgerton's straight away and it down with them because you'd make a fortune.' They have literally just lost their father and Anthony becomes a viscount and head of the family within one night. This is the patriarchal system, that's how that worked, and that has completely limited and shattered female existence. There is also a very modern sensibility of mental health in men. Hopefully he's not just a baddie and there's something quite human going on.
There are redeeming features…
Yeah, like his hair or mutton chops. I could write a thesis on how having facial hair like that can augment your sense of self within your social circles. Suddenly people are like, 'Oh my God, are you in a band? Are you from Camden?' It just changes the shape of everyone's face and makes it sharp.
The sideburns are like 19th century contouring!
Exactly! Your cheekbones are on fleek.
Bridgerton brings up how some men really do struggle behind the very public roles that they play. How do you look after your own mental wellbeing and what societal pressures that have put pressure on your mental health?
That's a really good question. I think there's just incredible amounts of labeling generally and as woman, as a man, as a gay man, as a mother, as a father, there's just a sense that there's opinions everywhere. And at this moment in time, that can come straight to your phone, but I know what the 'balm' is and for me it is having friends that you nurture you through and keeping transparency and openness. That's not always easy and that requires work but when you get there and if you feel confident enough to be able to say how you're feeling moment to moment, you get a greater sense of your own identity.
Corsets, feminism & sex: Phoebe Dynevor gets candid on Bridgerton, Netflix's new iconic show, as she becomes GLAMOUR's December digital coverstar
If you do talk, sometimes you surprise yourself by how you're framing things in words, and it's completely different to how you think. My experience of any moments of real fear or trauma in certain ways is that you realize that other people have been through it. That's the power of storytelling as well as conversation. I am so lucky, and I escaped the Instagram teenage years!
I mean, MSN messenger was bad enough!

Yeah. I know – BRB and the wobbly nudge! I hated being nudged and I still hate being nudged. Who knows how self-image and self-esteem is really going to be affected going forward?
Existing authentically is the hardest battle of all really, isn't it?

Yeah! It's ebb and flow. I think it's like when you are in the sea, you've got your boogie board, if you're lucky you've got a wetsuit, and the waves are going to come, and you don't know how you're going to surf them. But as long as you know that that boogie board is yours and your pals are also down the road in the same sea then you're going to be all right because you know you're all experiencing similar waves and similar tides as them God, that was a real strong image, wasn't it?
'Life is a boogie board,' is truly a great way to look at life!
It's a new mantra!
Bridgerton arrives on Netflix on Christmas Day.