Whenever our good sister Rihanna puts her beauty gloves on, it's a moment. After launching one of the most diverse ranges of foundation of its time back in 2017, with an offering of 50 shades from lightest to deepest, Fenty Beauty has gone from strength to strength. It's latest addition comes in a powdered form, including all 50 shades that match both the Pro Filt'r Soft Matte Longwear and the Pro Filt'r Hydrating Foundation. When Rihanna said inclusive, she really meant it. Even the oily skin tribe couldn't be left out.
Although dewy skin has been having a moment, not everyone would want to/can depend on liquid foundations, as humidity doesn't consider your makeup setting needs. Not only that but powder foundations are great for setting concealers and cream bronzers as well as controlling oily T-zones. The packaging comes in a lightweight compact, small enough to fit in your purse (not that we're going anywhere right now, but speaking it into existence) and we are dying to try it.
We have decided to put Fenty's latest offering to the test and here are our thoughts:
The Product
Fenty Beauty Pro Filt'r Soft Matte Powder Foundation, £27, Harvey Nichols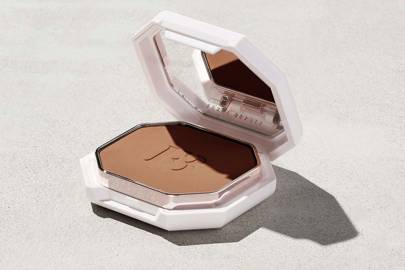 The Reviews
Shei Mamona, GLAMOUR's Beauty & Features Assistant
Shade: 420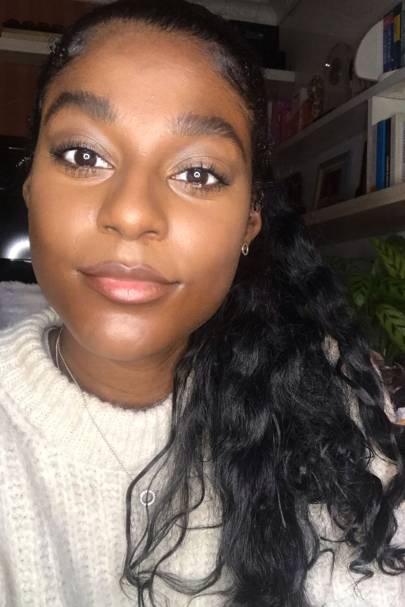 I'm a dewy babe, if there is an option between matte or glow I will usually always pick glow. However, my combo skin doesn't always agree with that. Therefore, I try to balance having my liquid hydrating foundation set with a pressed or loose powder that doesn't crease on my under eyes, doesn't leave a white cast and takes away the look of pores. I had high expectations that this powder would do all of the above and it is indeed a yes from me.
With this powder I didn't have to apply much for good coverage, which can often leave you looking like a dried up raisin. It was easy enough to find my shade as it was the identical match to the one from the hydrating formula and I even used a lighter shade to set my concealer. I won't be turning into a press powder foundation gyal anytime soon. However, since I've been loyal to the same setting powder for a few years, I might have to turn my head for this one, and I mean for good.
Lottie Winter, GLAMOUR's Beauty Editor
Shade: 140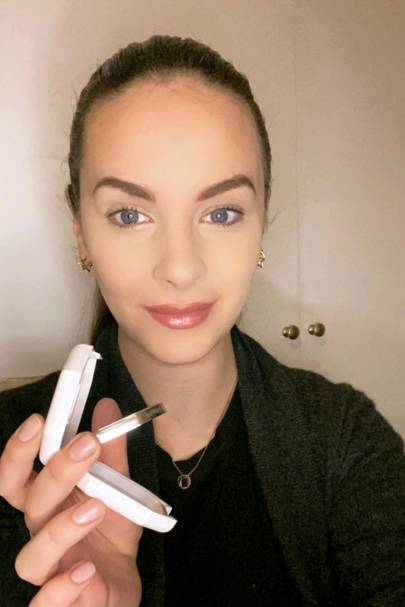 From afar, this foundation looks flawless if a little flat (as is always the case with powder foundations, in my experience). I will definitely have to add dimension with bronzer and highlighter to get the finish to where I'd like it to be but it has completely evened out my skin tone and covered all my blemishes and eye bags.
The only other thing to note is that due to the cold weather and blitzing my skin with salicylic acid after a particularly bad breakout, my skin is pretty dry at the moment. The powder has settled into the dry areas making them look even drier – but that's only if you get very close, which, of course, no one is able to these days anyway.
Zain Shah, Content Creator
Shade: 250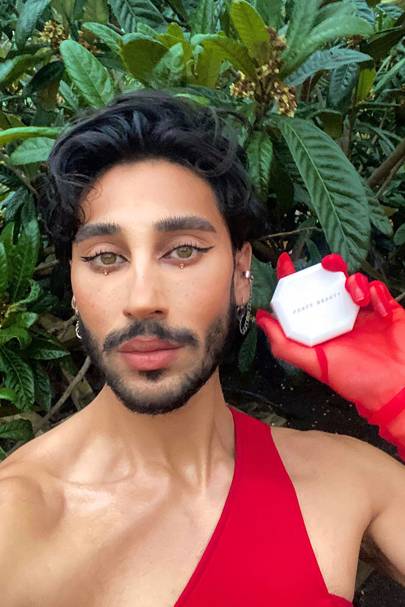 Full disclosure: I'm not a big fan of foundation, I rarely wear it and I was a bit nervous to try the new soft matte powder because my skin is so dry! After wearing the product for a full day I'm happy to report that this does not accentuate dryness and is completely natural looking. However it did make my skin look a little flat / lacking in dimension.
This can be easily remedied by applying extra bronzer, highlight or blush but I think I'll stick to using liquid concealer on key areas to keep my skin's dewy glow. I do however, love applying this with a fluffy eyeshadow brush and pressing it into key areas for long-lasting, natural looking coverage.
Serena Connolly, Glamour's Executive Assistant
Shade: 140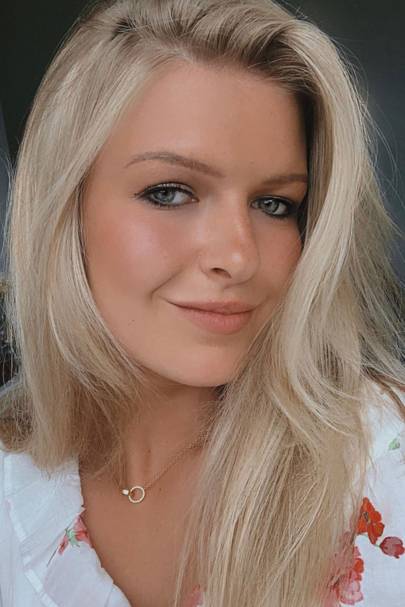 The Fenty Beauty Pro Filt'r Soft Matte Powder Foundation is just fantastic. I found the quiz for colour matching very easy to use yet also thorough. I was surprised to find that upon arrival, my colour match was just perfect for my skin. I have never used a non-liquid form foundation before but have been so impressed with this.
It comes in a slim box with a mirror and sponge to use as an applicator, making it great for also using on the go. I found it very smooth to apply and much longer lasting than a lot of other foundations I have tried. It isn't too thick on the skin, non shiny, and you also don't get that extra foundation left over when squeezed out of a bottle. Was very impressed and would highly recommend it!
Maria Anno, Assistant Psychologist
Shade: 300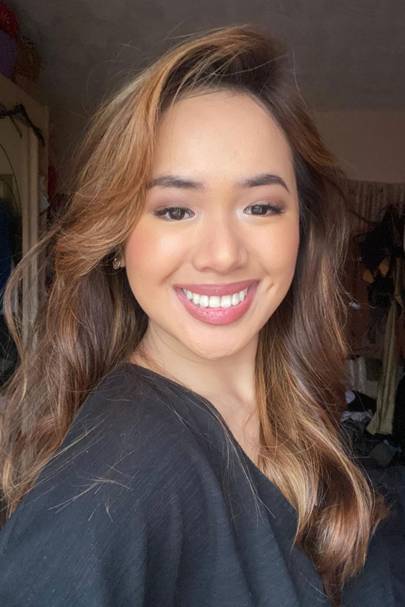 After doing the shade match online, I was pleasantly surprised to have received the perfect shade for this powder foundation! I don't wear make-up everyday, I try to stick to concealers for a natural and lightweight feel on my skin on a day-to-day and special occasion wear but I fell in love with this foundation.
It controls and adds the perfect amount of coverage to your complexion. Its formula feels weightless on the skin, which is great because I can't deal with cakey/thick textures. It's definitely ideal for those wanting to control shine without compromising on your naturally glowing complexion, and it's something I would put my money on again and again.