Truth be told, we've been low-key obsessed with Dr. Paul Nassif ever since he popped up on our screens 10 years ago in the first season of Real Housewives of Beverly Hills.
So now that he's back with Season 6 of Botched, the reality show where they make very bad cosmetic surgery good again, our reality TV fix is satissfied.
Plastic Surgeon Dr Nassif has been treating Hollywood clientele for many years, specialising in ethnic rhinoplasty and revision (meaning nose jobs and reversing botched surgery).
More than just that, Dr Nassif knows good skin. He launched his first line of skincare last year, As If by Nassif, to target premature ageing using power peptides and nourishing plant extracts. So, no surgery necessary.
With all that in his locker, we grilled the king of skin about the beauty trends worth taking note of.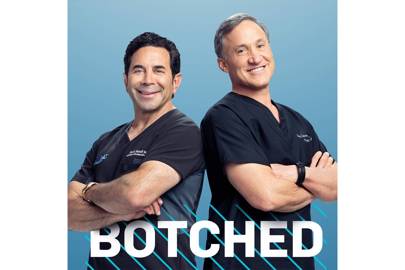 1. Powerhouse Product Combos
First off, Dr Nassif suggests that combining active ingredients to treat and target specific skin concerns will really take your skincare routine to the next level.
"The key to mixing product combos," he says, "is to first understand your skin and what it needs. Use products that complement each other and get to know your ingredients."
Dr Nassif's top product combos:
Salicylic acid + Niacinamide – Together these ingredients fight acne-causing bacteria and can help keep skin clear and healthy!
As salicylic acid is oil-soluble, it can reach deep into the skin's pores to unclog them; it does this by loosening and detaching the dirt, and impurities that build up over time within the hair follicles.
Niacinamide reduces sebum production and can help shrink pores and improve the texture of the skin.
Vitamin C + SPF – Did you know the sun is responsible for up to 90% of ageing skin? UVA rays reach the deeper layers of the skin, damaging collagen and elastin, and causing sun spots, pigmentation, and premature ageing. Using an SPF daily (even in the winter) can help shield your skin against the sun's harmful rays.
Vitamin C is effective at inhibiting tyrosinase to decrease melanin production, so by using it alongside a daily SPF, you can boost your SPF's efficacy, which means you're even less likely to experience signs of premature ageing.
Niacinamide + Retinol – Niacinamide works to strengthen the skin's barrier, and also calms skin irritation. When used alongside retinol, it can help the skin be more receptive to its benefits. Simply put, when used together, these powerful ingredients make each one work harder!
From the anti-blemish sheet mask to her trusty collagen supplements: These are Jennifer Aniston's go-to beauty and wellness secrets
2. Medical Grade Facials

Different from your average beauty salon facial, the medical-grade facial typically only takes place in a cosmetic doctor's office and – as the name suggests – makes use of medical-grade products and tools such as chemical peels, IPL, LED light and dermaplaning for more advanced treatment of specific skincare concerns.
Dr Nassif explains: "These are designed in accordance with your unique skin needs. Whether you want to address ageing skin or adult acne, a treatment plan is customised to care for your skin type and concerns."
3. Combining Aesthetic Treatments
From fillers to Botox and rhinoplasty surgery, Dr Nassif has seen it all when it comes to surgery. But he says combining injectables with aesthetic treatments are on the rise in Beverly Hills.
"You can partner your injectable treatments with laser skin rejuvenation to tighten the skin," he says. "We have seen a big increase in this at our clinic, and expect 2021 to see even more aesthetic treatment and injectable combos."
4. Photofacials
A new wave of IPL Photofacials aims to treat pigmentation and sun-damaged skin without surgery, and Dr Nassif is only expecting demand to increase.
He explains: "IPL stands for 'intense pulsed light.' During the treatment, a handheld device delivers targeted and quick pulses of light onto the surface of skin to breakdown the melanin.
"It can treat specific areas on the face e:g: sun spots or the full face. As a result, skin is left clearer, and with a more even complexion. Photofacials can also be used to treat acne and rosacea."