There's no better time than a national lockdown to test out the coolest new skincare/makeup/hair trends and snazzy innovations in beauty tech from the comfort of your own home. That said, there's nothing more frustrating than spending upwards of £100 on a snazzy new hair treatment or at-home facial system, only to find out it doesn't *actually* work.
Enter GLAMOUR Tries: the weekly Instagram series which sees GLAMOUR editors do all of the time-consuming (and expensive) work for you.
We've been busy trying out all of the (sometimes) wacky but always wonderful beauty crazes to take the internet by storm – from the hair pods seen backstage at Victoria Beckham during fashion week to Sarah Chapman's £138 Meso-Melt Infusion at-home facial and Ciate's nail stickers which promise an Instagram-ready manicure in minutes. These are the products that every veteran beauty sleuth is talking about – but that you want to do a bit of research into before buying.
Thanks to GLAMOUR Tries, you won't need to waste your hard-earned pennies on testing these innovations yourself. We're getting in their first, giving you the lowdown and making sure you invest in products that genuinely work. Like what you see? You can shop all of the products seen on GLAMOUR tries, with the click of a button, down below. Don't say we don't treat you.
This week, our Social Media Assistant Luca Wetherby-Matthews tried FOREO's UFO 2 LED Power Mask. Described as "the future of your weekly masking ritual", it's designed to supercharge your pampering sessions by offering you a range of treatments in one device to tackle your main skin concerns.
Condensing a 20-minute session into 90 seconds, it works in combination with the specially invented UFO-activated masks and each treatment incorporates a carefully chosen combination of temperature and pulsation intensity for maximum effect and soothing facial massage. It switches between thermotherapy (warm) to soften the skin to cryotherapy (cold) to lift and firm. That's the "Power Mask" part.
The light therapy part? The effects of the aforementioned treatments are boosted with a choice of eight light settings – from antibacterial blue light to sunburn-soothing yellow LED. Of course, LED face masks are big news right now, thanks to their ability to reduce breakouts, pigmentation, rosacea symptoms, psoriasis and other side-effects of inflammation. If you don't suffer from the above complaints, LED light therapy can simply help to improve the appearance of your skin. It's a great time to invest.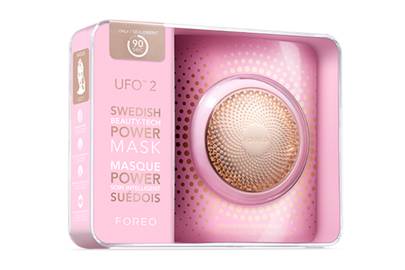 Buy It Now: Cult Beauty Buy It Now: Foreo Buy It Now: John Lewis Buy It Now: LookFantastic
So, how did Luca get on? "It might seem a bit overwhelming, but something really impressive is that you can connect this to your FOREO app, and the app will guide you through your treatment based on the mask you use with it," Luca said. "It'll choose your LED settings and every other setting, doing all the hard work for you."
"My skin feels so good, and it was actually much more of a relaxing experience than I thought it was going to be. Just because it's such a quick treatment, I didn't know what to expect. But things like the cryotherapy just felt insane! So refreshing, really professional and the pulsations really relaxed my muscles. I love that you can just follow along on the app, which is so intuitive."
Buy It Now: Cult Beauty Buy It Now: Foreo Buy It Now: John Lewis Buy It Now: LookFantastic
Let us know your thoughts and check out our full review over on Instagram @glamouruk now.
In the meantime, here are all of the products you've seen on GLAMOUR Tries over the past few weeks. Happy shopping!