This month is the 50th anniversary of Gabrielle Chanel's death in Paris. While 1971 seems a long time ago, the legacy that 'Coco' left is still going strong. Virginie Viard, Chanel's current creative director, is charged with navigating a clever course between incorporating the heritage signatures invented and appropriated by Chanel (Breton stripes, boucle tweed jackets, jersey as a fashion fabric, ballet flats, gold chains and quilted leather) with the needs of Chanel's customers today. With a recently launched podcast, featuring conversations on creativity led by Pharrell Williams, Margot Robbie and Sofia Coppola, Chanel has remained utterly relevant. "I'm always thinking about what women would like to have in their wardrobe today," said Virginie Viard.
But what about the clothes? Every season there are murmurings of dissent, wondering what the point of showing clothes that can cost more than a house, take at least 150 hours to make (that's for a very simple dress) and only cater for an estimated 4000 clients worldwide. Couture is a tradition of exquisite craft that has been showcased in Paris since 1868 when the Federation de la Haute Coute et de la Mode was founded. The Federation only allowed digital shows for the first time last summer when Covid demanded social distancing but as you might expect from some of the most creative businesses on the planet, the select fashion houses did a pandemic pivot and continued to showcase their craft via more modern mediums.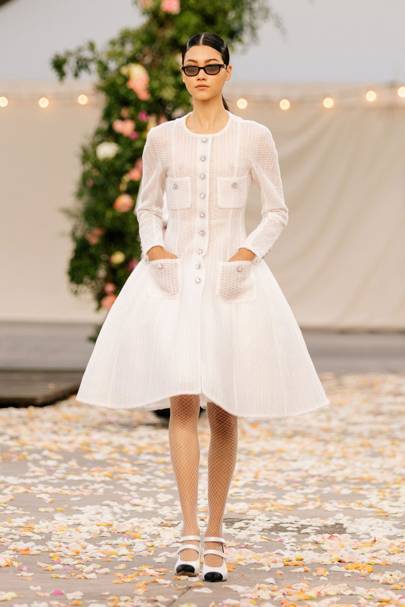 The dream of extravagant and exquisite fashion has seen film adopted as the best way to present a designer's vision, in lieu of a catwalk show. As we saw with Dior yesterday, taking a theme and running with it can make for an epic fashion moment via a tarot-inspired show.
Likewise today, Chanel provided video links to a select number of clients and press after a teaser, directed by legendary filmmaker Anton Corbijn (and soundtracked by Depeche Mode) was released hinting at silver sequins and sparkle.
And sure enough, there were metallics for days… The models walked through the Grand Palais as normal but faced with an audience that you could count on one hand (including Lily-Rose Depp, Marion Cotillard and Penelope Cruz) the huge space felt eerily silent as a wistful reworking of Be My Baby by The Ronettes was the only soundtrack to the black and white film. But then… colour arrived (an apt metaphor for when All This Is Over, perhaps?) and the music changed to a hiNRG beat from Chemz.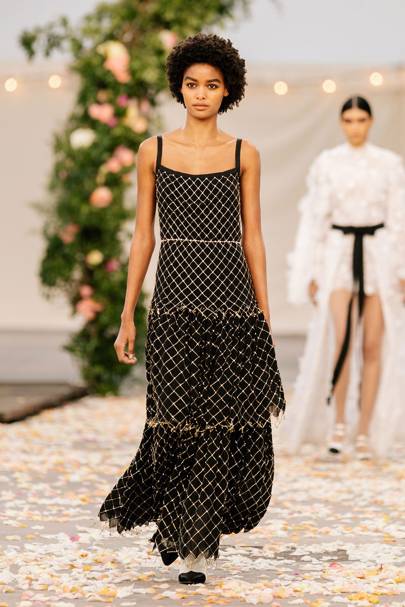 Waistcoats encrusted with sparkling bugle beads, tulle off the shoulder details on little black dresses, bell-shaped silk party gowns and sharp tweed tailored trouser suits bought the drama. The fullest skirts (with tiers of pastel ruffles or cascading black silk) looked fresh with simple white blouses. If you're not in the market to shop couture right now then why not try wearing your most fabulous pieces mixed with daywear to break the fun of lockdown leisurewear? Fishnet tights were an elegant addition (and an easy way to work the look at home) while a flower circlet around your head looks romantic. Take a selfie, will you?
Couture shows traditionally end with a bridal outfit… Chanel's was a butterfly embroidered satin frock coat which entered on a beautiful grey horse while Virginie Viard took her bow – in a waistcoat.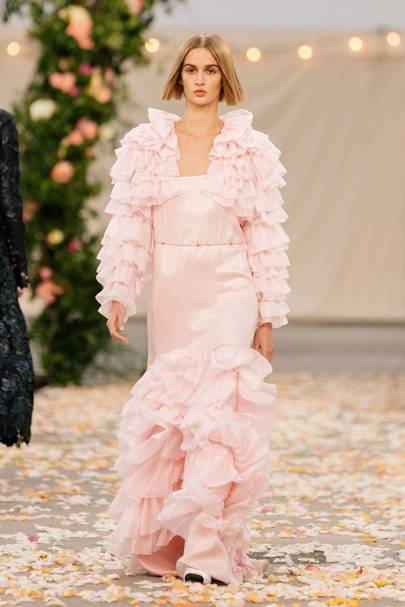 With enough clothes in the world to dress the next six generations no one needs clothes, let alone couture ones. But perhaps, these are the most sustainable clothes on the planet as they are only made to order with respect paid to the petit mains who sew, embellish and fit these rarest of pieces. Couture is a far more ethical and transparent part of the fashion industry than so many fast fashion brands that burning of returns, build mountains of deadstock, are responsible for habitats becoming deserts as cotton production soars and garment makers dying in sweatshops. Celebrating the craft of clothes is far too underrated right now. Plus we could all do with a break from our loungewear and tracksuits, even if it's only for a few moments of gazing on magical clothes on a video screen. That's why couture truly matters.