Alongside from her groundbreaking roles in Crazy Rich Asians and Disney's Raya And The Last Dragon, Golden Globe-winner Awkwafina is fast becoming one of our most exciting creators with her show Awkwafina Is Nora From Queens. As she wins our GLAMOUR Women of the Year Gamechanging Creator Award, she opens up to Josh Smith about how her creativity has 'saved' her, anti-Asian hate and becoming the representation she needed.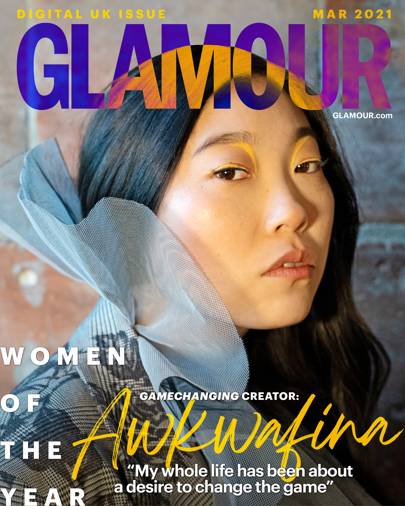 Interviewing Awkwafina, 32, is like having a cameo in her sitcom, Awkwafina Is Nora From Queens, a semi autobiographical irreverent comedy about a New Yorker in her late twenties, struggling to 'adult' while still living with her father and grandma.
Speaking from her trailer in New York where she is filming the second season, Awkwafina is annoyed by the endless sirens in the background, flapping her hands as if to 'shoo' them like flies, and she's Zooming from her phone, propped up by a can of Red Bull.
Throughout the call, Awkfwafina zips around conversations like a pinball machine, self-deprecatingly mocking herself and using her characteristic hand gestures throughout to punctuate her points as if lightbulbs are constantly going off in her head. We begin by discussing her first memory of creating something, which is a beautiful insight into the wonderful mind of Awkwafina.
"The first thing that I created as a kid were two imaginary friends," she says, in her deep New York accent, which she previously likened to a 58-year old divorce attorney's. "One was named Charlie," she says. "He was about three-foot-tall, an Asian guy and he was dressed in a waiter's uniform. My other imaginary best friend was named Madonna, but she wore the Pee-wee Herman suit. I would blame everything on Madonna and on Charlie, like if something broke. They were very mischievous back then!"
Awkwafina – she was born Nora Lum, Awkwafina was a nickname she acquired from her schoolfriend Kim – has since gone on to dabble in everything from releasing two albums to winning a Golden Globe for her role in The Farewell. This girl can pivot! She first came to prominence as an viral internet sensation in 2012 with her rap My Vag, featuring such lyrics as: Awkwafina's a genius/ and her vagina is 50 times better than a penis, which led to her being sacked from her junior role at a publishing house. Around this time, while auditioning and maintaining multiple side hustles including working in a Japanese restaurant and a vegan bodega, she suddenly found herself landing a starring role as a con-artist in Ocean's 8 alongside Rihanna, Cate Blanchett and Sandra Bullock.
But Awkwafina truly came into her own in the first major Hollywood studio movie with a majority Asian cast in over 25 years, Crazy Rich Asians. Starring as the eccentric society gal, Peik Lin Goh, with Ken Jeong, Gemma Chan, Constance Wu and Michelle Yeoh, she improvised many of her own lines including, 'You kind of look like a slutty Ebola virus.'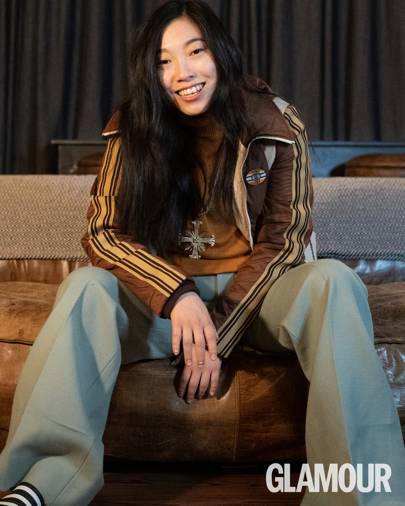 It's this comedy genius that saw her chosen to host Saturday Night Live in October 2018. And while the world awaits the Crazy Rich Asians sequel – "it's going to happen, it's going to be good," she promises me – Awkwafina has broadened her repertoire with some more serious drama in The Farewell. She plays Billi who returns to China to say goodbye to her grandmother who is unaware she is dying. This is the role that landed her a Golden Globe in 2020 for Leading Actress in a Musical or Comedy, becoming the first actress of Southeast Asian descent to do so.
"You don't want to be the first sometimes and you just hope that there's more… In everything that I do I want to clean up this area so that when the new generation comes in they have a happy playground and one that they can easily thrive in. If I was ever going to have a legacy, that would be it."
Does she feel any pressure being the first? "I didn't even know that statistic until after I had won," she shares. "It was one of the most exciting nights of my life, but there is a bittersweet aspect. You don't want to be the first sometimes and you just hope that there's more. For me, when I saw people that looked like me on television, it opened up the world and what I thought was possible for myself. In everything that I do I want to clean up this area so that when the new generation comes in they have a happy playground and one that they can easily thrive in. If I was ever going to have a legacy, that would be it."
Firsts are quickly becoming Awkwafina's forte, however, as she stars in Disney's Raya And The Last Dragon. Not only is it the first animated picture the studio has produced from home – with 450 animators working remotely around the world – it makes history as it follows the first Southeast Asian Disney princess, Raya (voiced by Kelly Marie Tran) as she attempts to bring peace between rival communities with the help of her dragon wingwoman Sisu, voiced by Awkwafina. It's an instant classic with the kickass Disney princess we have been waiting for. And Awkwafina's comedy magic will make Sisu an instant Disney legend – think Eddie Murphy as Mushu in Mulan.
"We want movies that ultimately reflect our real world and to combine that with something that's also like a treasure from my childhood – it's very powerful."
It was a dream job for Disney obsessive Awkwafina. "Special would even be an understatement," she says, excitedly waving her hands. "When I was young my Disney VHS tapes were so used that you couldn't resell them to anyone – you wouldn't even know what they were! Disney was such an iconic part of my childhood. Those characters and movies and the things you learn from them, shape who you become. If I was a kid and I had seen a movie like this it would have changed how I looked at myself in the world. We want movies that ultimately reflect our real world and to combine that with something that's also like a treasure from my childhood – it's very powerful."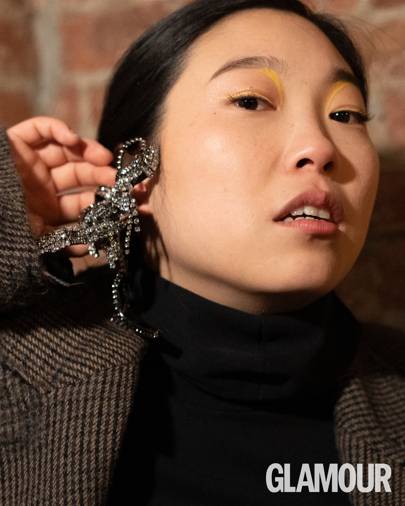 How represented as a young person did she feel, I ask? "The first time I ever really had a conversation about representation to myself was when I first saw the movie Air Bud," she answers, referencing a '90s movie about a basketball-playing golden retriever. "I loved this movie because I was like, 'that dude can shoot hoops, and he's a dog!' I wondered if I could be buds with Air Bud and I realised that you would have to recast the parents to be Asian – that was me talking to myself as a child – to make it work. I thought, talked and sounded like all of the people that I watched on TV, yet I didn't see how I could fit into that world visually.
"Finding a sense of place, when you're young, you really latch on to idols," she continues. "For my generation it was Margaret Cho, and Lucy Liu in Charlie's Angels, for female Asian representation. To see Margaret Cho doing standup was the most powerful thing I'd ever seen, it made me realise it was possible."
Awkwafina also found her heroes closer to home. After her mother, Tia, a painter – who moved from Korea to the US in the 1970s – died when Awkwafina was just four, her paternal grandmother, Powah, moved to Queens to help raise her, and ran one of the first Chinese restaurants in their neighbourhood. "She was the first person to show me that Asian women are strong, they hold the family, they don't take bullsh*t and they persevere," she declares. "They work five jobs, they raise kids, and my grandma showed me that from the beginning, to the point where I didn't ever question that!"
Being a child who bunked off school regularly and was diagnosed with ADD and depression, I wonder when she could have used a wingwoman like Sisu in her own life? "I needed a friend most after I lost my mom," she replies. "I definitely could have used a Sisu, for sure. Just for the feeling of not being alone, and I actually kind of did, my grandma was my Sisu."
Much of Awkwafina's work speaks of heritage and a respect for it, something that she has had to reckon with in her own life. "For all dash-American kids there's a complicated negotiation that goes on with your heritage. It's not something you can deny or say that it's not a part of you because you go home to it every day," Awkwafina tells me. "There are nuances within that culture that when you go into school or go to your friends' houses, they're not going to understand so it is a constant negotiation. And often those worlds won't ever meet in a way for other people to make sense of it. That automatically makes you feel like an outsider."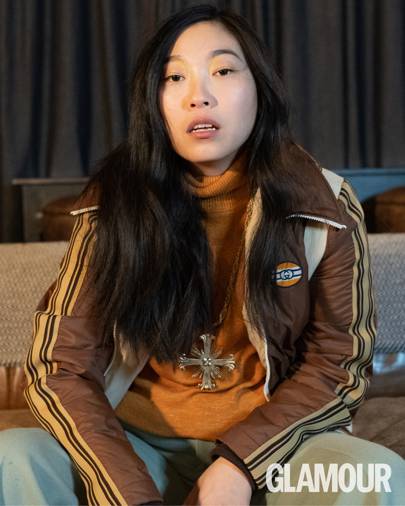 She continues: "There's a double-edged sword, because when you're American and you say you weren't born in China and don't speak the language, you're still made to feel at times, that you don't belong. But then, I spent a year in China and I very quickly realised I didn't fit in there, either. So, it really is a case of coming to terms with your heritage, loving, appreciating, respecting it, and really internalising it."
What makes you different as a child becomes your superpower as an adult, I suggest. "Yeah! Feeling different was always a really constant emotion of mine and talking to a lot of kids often they feel that way, too. The main message that I want to give to those kids, because they might not see it now, is that those differences are going to set you apart. That's a big message I wish I could have taught myself earlier."
This message comes at a time of increasing anti-Asian racism, fuelled in part by the toxic rhetoric used by Donald Trump around Covid-19, repeatedly calling it the "Chinese virus." The organisation Stop AAPI (Asian American Pacific Islanders) Hate received 2,808 reports of anti-Asian discrimination in the US between March and December last year, and just last month footage of an elderly Thai man being pushed to the pavement in San Francisco went viral. He later died of his injuries. Since then a Filipino man had his face slashed in New York and two elderly Asian women were assaulted on the New York subway. I just have to speak to my Asian friends to find there is a ripple of fear across the UK too, one saying he is now afraid to walk down the street in London. It is something Awkwafina is finding deeply troubling.
"What's going on there is a pure lack of empathy. It's ignorance, it's hatred and that's what happens when that exists. I wish that it would stop."
"I'm deeply disturbed by it. I was raised by my grandma, who…" Awkwafina pauses to compose herself, "the thought of that is very haunting, because of where the hate comes from. I am very disturbed by that kind of hate and violence, and tying it back to the themes that I loved so much about Raya And The Last Dragon – unity, trust over hatred – what's going on there is a pure lack of empathy. It's ignorance, it's hatred and that's what happens when that exists. I wish that it would stop."
We all need to learn to be better allies to other communities, but Awkwafina has found it hard to be her own ally at times. "For a long time, especially when I was very young, I really didn't think that I was good for anything," she says. "I wasn't passionate about anything, and I saw all of these people around me that seemed to know or seemed to find a sense of satisfaction. I remember feeling my problem isn't that I'm not capable of doing those things, but what if I never love something so much that I'll do it forever?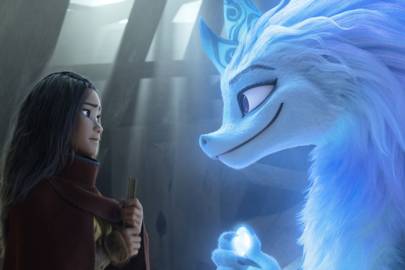 "I never felt like I really cared about hard work. I always slacked off. I worked at a publishing company and I would take naps in the book room. But filming Crazy Rich Asians and shooting the pilot of my show, I found something that excited me so much that I was willing to lose sleep over it. That was a personal gamechanger, because it shows not only the possibilities about what the world can offer, but what I could offer the world."
What's remarkable is that Awkwafina still feels like an imposter even though she has a Marvel film on the horizon: Shang-Chi And The Legend Of The Ten Rings, is voicing Scuttle The Seagull in Disney's live-action remake of The Little Mermaid and will feature in a new Netflix comedy playing Sandra Oh's sister.
"A little bit of imposter syndrome is good, because it checks you," she says. "You don't ever walk into somewhere feeling like you own the place. But too much of it becomes a kind of a detrimental thing rather than something that can rouse more creativity or growth."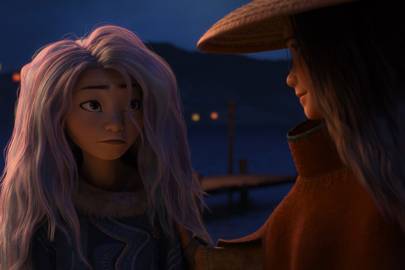 Given everything Awkwafina has been through – from losing her mother to the ups and downs of fame – it is evident that her creative talents have rescued her. "Creating has 100% saved me," she states. "It's given me hope, it's instilled a sense of self that I was lacking as a kid.
As our time wraps up ahead of a busy afternoon of filming for her, we discuss whether Awkwafina sees herself as a gamechanger. "My whole life has been about a desire to change the game. When we dare to do so, we make a better game, and the cool thing is that the game will always keep changing," she smiles.
"I know that's a lot of game references, but what it comes down to is the world is yours to change and to make an impact on. So, please do so and thank you to GLAMOUR, for supporting powerful, cool women… Wait, did I call myself a powerful, cool woman just now?" Yes you did, Awkwafina – and we are here for it.
Disney's Raya and The Last Dragon will be available on Disney+ with premium access from 5 March. Join Awkwafina at the virtual GLAMOUR Women of The Year Awards on Thursday 11th March at 7pm.