Evidence strongly suggests it would have been "obvious" to Boris Johnson COVID rules were being breached at Downing Street gatherings he attended, an inquiry into whether he misled parliament has said.
MPs on the cross-party Commons Privileges Committee were tasked with investigating whether Mr Johnson misled parliament over partygate allegations after Sir Keir Starmer tabled a motion in April 2022.
The former prime minister repeatedly denied COVID lockdown rules were broken at Number 10 when asked in the Commons.
Boris Johnson hits out after latest partygate inquiry update – live politics updates
On Friday, the committee published its initial 24-page report, including four previously unseen photos of Downing Street gatherings awash with bottles of alcohol, saying the Commons may have been misled multiple times.
The report said Mr Johnson has been called to give oral evidence in parliament in the week beginning 20 March. The committee also revealed what it will ask Mr Johnson.
The report said: "The evidence strongly suggests that breaches of guidance would have been obvious to Mr Johnson at the time he was at the gatherings.
"There is evidence that those who were advising Mr Johnson about what to say to the press and in the House were themselves struggling to contend that some gatherings were within the rules."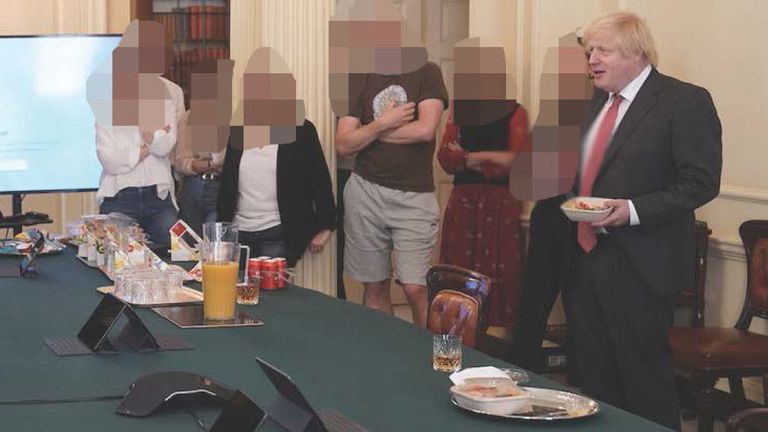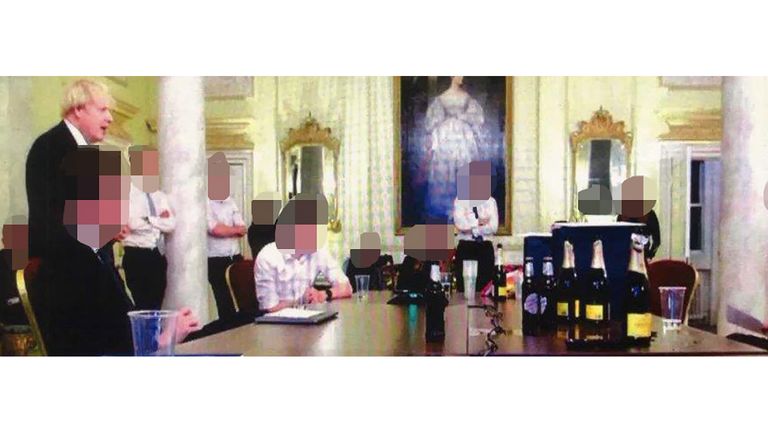 The committee said it will consider why Mr Johnson told MPs no guidance had been broken "when he knew what the guidance was and was in attendance at gatherings where the guidance was breached".
It will also look into "why he failed to tell the House about the gatherings at which he had been present".
The committee emphasised the report is not the final assessment, but "sets out next steps" and was requested by Mr Johnson's lawyers to enable him to give oral evidence before the committee.
Misleading parliament could result in Mr Johnson being suspended from the Commons for 10 days, which could trigger a recall petition. If 10% of voters in his Uxbridge constituency sign a petition he could lose his job as an MP as a by-election would have to take place.
What has Boris Johnson said about No 10 gatherings in the Commons?
1 December 2021, when asked by Sir Keir Starmer if rules were broken: "All guidance was followed completely in No 10."
8 December 2021, when asked whether there was a party in Downing Street on 13 November 2020: "I have been repeatedly reassured since these allegations emerged that there was no party and that no COVID rules were broken.
"I am sickened, myself, and furious about that. But I have repeatedly been reassured that the rules were not broken.
"The guidance was followed and the rules were followed at all times."
Johnson: I've been vindicated
Mr Johnson said the interim report showed he was being "vindicated" and it is "clear from this report that I have not committed any contempt of parliament".
"That is because there is no evidence in the report that I knowingly or recklessly misled parliament, or that I failed to update parliament in a timely manner," he said.
"Nor is there any evidence in the report that I was aware that any events taking place in No 10 or the Cabinet Office were in breach of the rules or the guidance."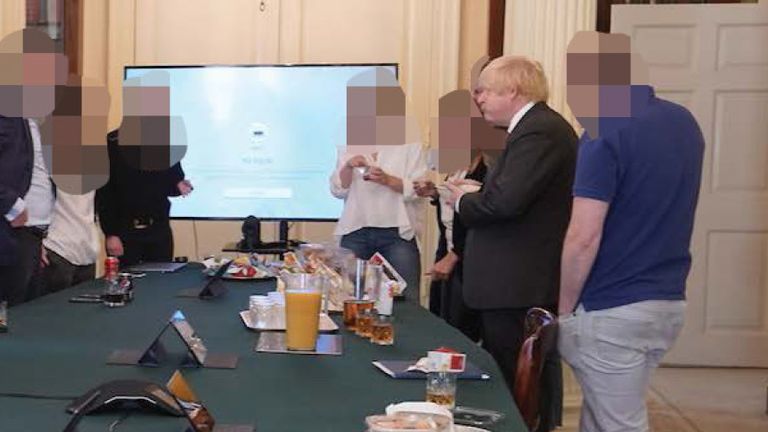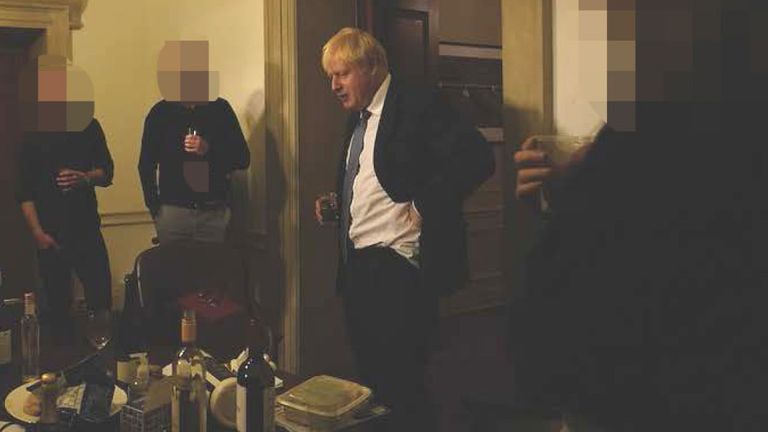 Mr Johnson accused the committee on Friday of relying on evidence "culled and orchestrated" by civil servant Sue Gray, who led an inquiry into whether parties took place in Downing Street during lockdown.
Mr Johnson said the committee has emphasised their "wish to be fair" but has referenced the Second Permanent Secretary to the Cabinet Office on "no fewer than 26 occasions" in the report.
"That is, of course, Sue Gray," he said.
The committee said the report is not based on Ms Gray's report, she is not a witness and was not present when material from Downing Street and witnesses was presented to them.
Read more:
Everything you need to know about the investigation
Photos of Boris Johnson during lockdown gatherings
Sky's Sam Coates takes us through the report

'I don't know what we say'
Some of the evidence has been published in the interim report, including a speech Mr Johnson gave at a gathering in No 10's press office vestibule on 27 November 2020, when indoor gatherings of more than two people were forbidden and social distancing was in place.
He allegedly said: "This is probably the most unsocially distanced gathering in the UK right now."
A WhatsApp message from April 2021 from a No 10 official said: "[No 10 official]'s worried about leaks of PM having a p*** up and to be fair I don't think it's unwarranted."
In response to a party held in No 10 in November 2021, No 10's director of communications Jack Doyle wrote in a WhatsApp: "Can you pull together our best possible defence on this one I don't know what we say about the flat."
A No 10 official then replied: "Don't we just do a generic line and not get into whether there was a drinks thing or not. 'COVID rules have been followed at all times' or something."
The communications director then answered: "I think we have to say something as robust as we can manage but see what you think."
The report also reveals the committee members went on a site visit to No 10 last week where they "confirmed that a line of sight exists from the bottom of the stairs leading up to what was then Mr Johnson's flat into the Press Office vestibule where these gatherings took place".
They said the ex-PM would have had to walk from the staircase through another room to get to that vestibule.
What is the partygate inquiry?


'Absolutely damning'
Labour's deputy leader Angela Rayner said the evidence in the report is "absolutely damning" of Mr Johnson's conduct "not just in the crime but the cover up" and called on Mr Sunak to "stop propping up this disgraced prime minister and his legal defence fund".
Mr Sunak must "make clear that if Boris Johnson is found to have repeatedly misled Parliament his career is over", she added.
Lord Kerslake, former head of the civil service, told Sky News Mr Johnson "clearly misled the House of Commons, whether he knowingly did this is the key question here".
On Mr Johnson questioning Ms Gray's impartiality, Lord Kerslake said it is "completely unfair, trying to create a conspiracy theory with no evidence".
'Inquiry held up by government reluctance'
At the end of January this year, the committee contacted those involved in the parties, or with direct knowledge of them, to submit written evidence by 7 February.
This had been delayed from last July, with the Cabinet Office blamed for resisting the request for key information at the time.
In the latest report, the Privileges Committee said its inquiry was "initially held up by a reluctance on the part of the government to provide unredacted evidence", including heavily redacted documents – some of which were already available publicly – that rendered them "devoid of any evidential value".
Rishi Sunak's government finally provided the relevant material – unredacted – on 18 November last year.
The report also said Mr Johnson told them he held "no relevant material" after three requests for evidence and said he still "has not provided us with a written submission".