Rishi Sunak travelled to Southampton using a taxpayer-funded helicopter, Downing Street has admitted, despite the journey taking just over an hour on the train.
The prime minister was visiting the city to attend a GP surgery and pharmacy to promote the government's latest intervention to reduce the strain on GP practices.
According to rail schedules, the journey from London Waterloo station to Southampton Central station takes one hour and 14 minutes, meaning that had the prime minister caught the 8.35am train, he would have arrived in Southampton at 9.50am.
According to the Mirror, a helicopter left RAF Northolt at around 8.53am this morning, before landing at Wellington Barracks in Westminster where it picked up Mr Sunak. He landed at Southampton Airport at around 9.47am.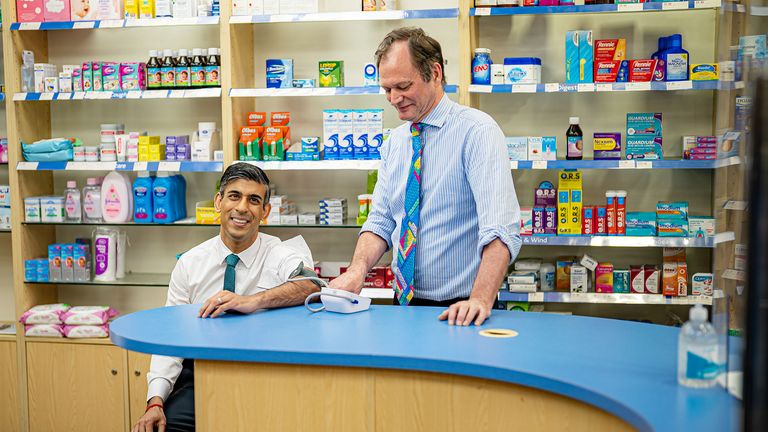 The prime minister's official spokesperson defended the use of the helicopter on the grounds that it helped to "make the best use of his time".
Challenged on the fact that it would have taken only around 90 minutes to travel from Westminster to Southampton by train this morning, the spokesperson said: "The way he gets to different events will vary as there's lots of pressure on his time."
Claims Boris Johnson had 'showdown' with King 'inaccurate' – politics latest
The spokesman added that there was "always a balance between the interests of the taxpayer and the best use of his time".
The revelation follows a bruising set of local election results for Mr Sunak, in which the Conservative Party lost control of 49 councils and lost more than 1,000 seats.
Mr Sunak has announced a raft of primary care reforms in a bid to regain ground after the elections, which saw Labour and the Lib Dems make hefty gains, including in some of the Tories' southern heartlands.
Under the plans, patients will be able to receive prescription medicines and oral contraception without seeing a GP in a move the government hopes will free up 15 million slots at doctors' surgeries over the next two years.
Read more:
Downing Street defends Sunak flying 36 minutes to Leeds from London on RAF jet
Sunak defends new powers for police after coronation protest backlash
Under the proposals, pharmacists will be able to write prescriptions for common conditions including earache, sore throat and urinary tract infections without needing the approval of a GP.
The measures – which are part of what ministers are calling an "overhaul of primary care" – are backed by £645m of spending over two years and come alongside efforts to end the 8am "rush" for appointments.
However, Mr Sunak declined to say whether the government would stick to its manifesto pledge of hiring 6,000 more GPs by 204.
Is Rishi Sunak going to hit his manifesto target of 6000 GP's by 2024?

This is not the first time No 10 has defended Mr Sunak for his transportation choices.
The prime minister faced criticism in January for flying to Leeds from London on an RAF jet because it was the "most effective use of his time".
At the time, Labour's Deputy Leader Angela Rayner said families "will be rightly angered by this show of extravagance by Rishi Sunak".
She added: "Patients and staff are crying out for action from this government in the midst of a crisis in our NHS while the prime minister jets from London to Leeds for a photo op."