Rebekah Vardy has spoken for the first time about her experiences of growing up as a Jehovah's Witness.
In a Channel 4 documentary she alleges the religion failed to support her through sexual abuse as a child.
The media personality and wife of footballer Jamie Vardy was raised as a Jehovah's Witness in Norwich but left at the age of 15.
The 41-year-old also talks about her anger at how her family was shunned following her parents' divorce.
In the documentary, Vardy said she was sexually abused by someone in the community when she was a young teenager, claiming it was covered up by elders – senior male religious leaders.
In response to the claims made in the documentary, Jehovah's Witnesses said it is "false and offensive" to imply that they stand in the way of the authorities.
Vardy said: "I was brought up in a strict and controlling religious organisation.
"What happened to me during my childhood still affects me every single day.
"From the age of around 12 years old I was being abused and instead of being supported I was blamed, manipulated into believing it wasn't the best thing to take it to the police.
"I told my mum about the abuse that I was experiencing. She cried, but didn't believe me.
"I told numerous members of my family, Jehovah's Witness community, and they called a meeting, I think I was about 15, it was suggested that I had misinterpreted the abuse for a form of affection.
"I knew that I hadn't, I was well aware of what was right and what was wrong, and it was explained that I could bring shame on my family, and I was basically manipulated into believing it wasn't the best thing to do to take it any further and take it to the police.
"It's hard to see how I survived that."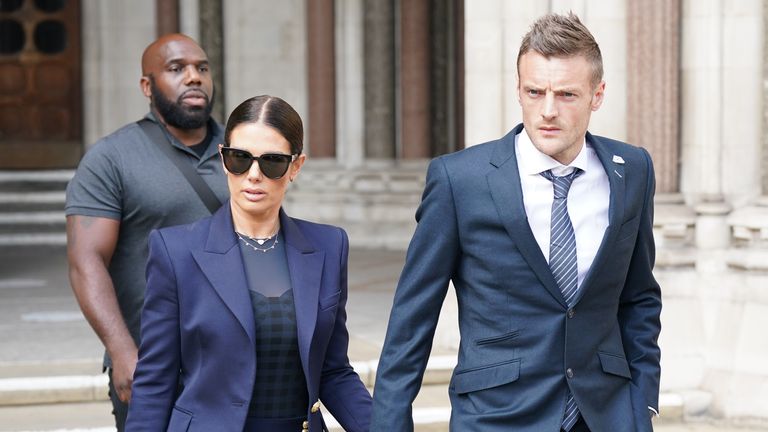 Jehovah's Witnesses are a Christian denomination with about 8.5 million followers worldwide, and believe the destruction of the world is imminent. They have a number of beliefs that are unique to them – they do not salute the flag of any country, they refuse military service, and they are against blood transfusions, for example.
'You would have to do things to keep Jehovah happy'
Vardy said that, as a child, she believed she would die in Armageddon if she was not "perfect" and she remembered being shown "upsetting" images depicting the end of the world, saying these still cause her nightmares as an adult.
She said: "You would have to do things to keep Jehovah happy, because he was always watching.
"Who you spoke to, how you spoke, how you dressed, how you held yourself, how you conducted every part of your whole life, and we were told if we didn't pray enough, bad things would happen to us."
Read more:
Someone's trademarked 'Wagatha Christie' – it's………….. Rebekah Vardy
Are high-profile lawsuits really worth it for celebs?
Rebekah Vardy says she feels 'let down' in first interview since losing libel trial against Coleen Rooney
She said that after her parents divorced, relatives and friends were banned from associating with them.
"I think that's where my real resentment to religion started… being made to feel so bad, so different," she said.
'False and offensive'
In the documentary, Vardy, now a mother-of-five, met other former Jehovah's Witnesses, including a victim of child abuse and the mother of a man who killed himself after being expelled by the organisation.
The Jehovah's Witnesses told Channel 4 that elders are directed to immediately report an allegation of child sexual abuse to the authorities even if there is only one complainant.
They rejected the suggestion that being expelled from the religion contributed to suicide and added: "Courts have rejected the allegation that disfellowshipping and so-called shunning results in social isolation and discrimination.
"And it is simply misleading and discriminatory to imply that our religion is controlling."
They also said they lacked the information to comment on individual cases.