Madonna has spoken of her heartbreak at the suffering in the Middle East as she kicked off her latest tour in London, which had been postponed following a life-threatening illness.
The US superstar urged fans at the O2 Arena on Saturday night to unite in "light and love" to help bring peace against the backdrop of the current Israel-Hamas war.
The conflict, which was sparked by the militant group launching a deadly assault from Gaza on Israel, has claimed thousands of lives on both sides.
Pausing her show, the 65-year-old singer told the audience: "We all come from love and it's important to know that right now because there's a lot of really crazy things happening in the world that are so painful to witness.
"All of us are suffering watching what's happening in Israel and Palestine.
"It breaks my heart to see children suffering, teenagers suffering, elderly people suffering. All of it is heartbreaking."
She added: "Even though our hearts are broken, our spirits cannot be broken…
"We are all together very powerful people. We can unite in the dark and evil or we can unite in a place of light and love.
"And if we all had that collective consciousness, we could change the world and we can bring peace – not only to the Middle East but all over the world."
Madonna also praised her children for supporting her while she was ill earlier this year with a "serious bacterial infection" which saw her admitted to intensive care for several days and forced her to postpone the tour, which had been due to begin in Canada in July.
The singer said: "It was a crazy year for me as well and I didn't think I was going to make it, neither did my doctors.
"I forgot five days of my life, or my death, I don't really know where I was.
"But the angels were protecting me and my children were there, and my children always save me every time."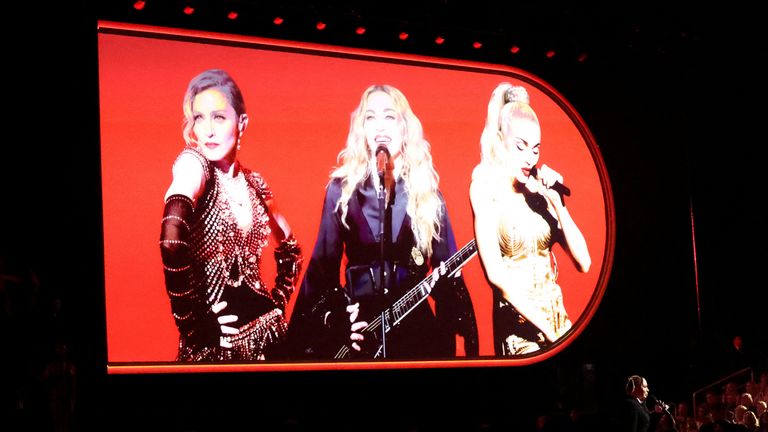 She added that her secret to surviving was thinking "I've got to be there for my children" before she struck up the chords to I Will Survive by Gloria Gaynor.
During the show, the Queen of Pop treated the enthusiastic audience to an array of classic songs from her four-decade career, a host of extravagant outfits and a variety of theatrical stage set-ups.
She also ensured the first show of her new tour would be a family affair as a number of her six children took to the stage throughout the nearly two-and-a-half-hour performance.
Read more on Sky News:
Couple's desperate messages before Hamas massacre
British parents 'trapped' at Gaza-Egypt border 'like caged hens'
After opening with powerful renditions of Nothing Really Matters and Into The Groove, she asked the crowd: "Am I imagining this? Oh my God, it is so good to be back London."
Madonna lived in London for several years while dating and married to film director Guy Ritchie.
She added: "I'm pretty damned surprised that I made it this far and I mean that on so many levels… How did I make it this far? Because of you. I'm going to take a bit of credit too."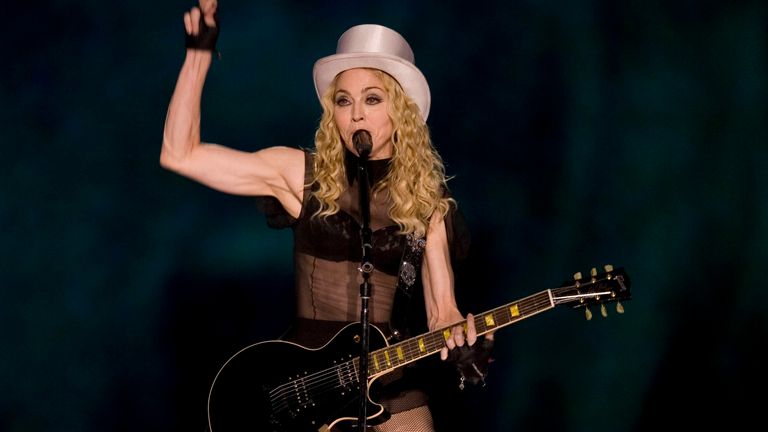 Madonna had to stop the performance briefly as she explained there was a problem with the sound and they had to "press the reset button".
The singer apologised for the delay and admitted "this is exactly what you don't want to happen on your opening night" but kept the crowd entertained by recalling anecdotes from her days in her first band when she was "broke and hungry and making zero cash", confessing she would "date men who had showers and bathtubs" as she had no way to wash at the time.
After the sound issues were resolved, the singer made up for the wait by launching into lively versions of Open Your Heart and Holiday.
She also performed a rendition of Don't Cry For Me Argentina draped in a Ukraine flag.
Madonna will perform three more sold-out dates in London before moving on to her European and North American legs.
It is her first tour since her Madame X shows, which ended in 2020.
Some of these performances were called off due to knee and hip injuries.
Madonna is the most successful female artist in UK chart history with 13 number-one hits.